In February, the Boston Globe published a hyperbolic article about the housing market and how it favored sellers. This is not news. This is advertising that justifies the continuation of seller-centered market practices.  I answered it on this blog.
Sometimes I am terribly naïve. I thought that was the annual "scare the buyers" article. But, lo and behold, there is inflation in the amount of useless scare information that the Boston Globe wants to publish. Let's face it, a story about the crazy things buyers are doing to get a house will be read and shared and talked about. That makes the advertisers happy. It doesn't make me happy.
Every year, there is an article or two designed to get a lot of attention from home buyers. It always does get attention. Buying has been hard in the greater Boston area because this is one of the most affluent and popular markets in the country. Here's what I told buyers in the spring in 2016, 2017, and even in the beginning of the pandemic in 2020 and earlier this year.
What you need to know about real estate right now: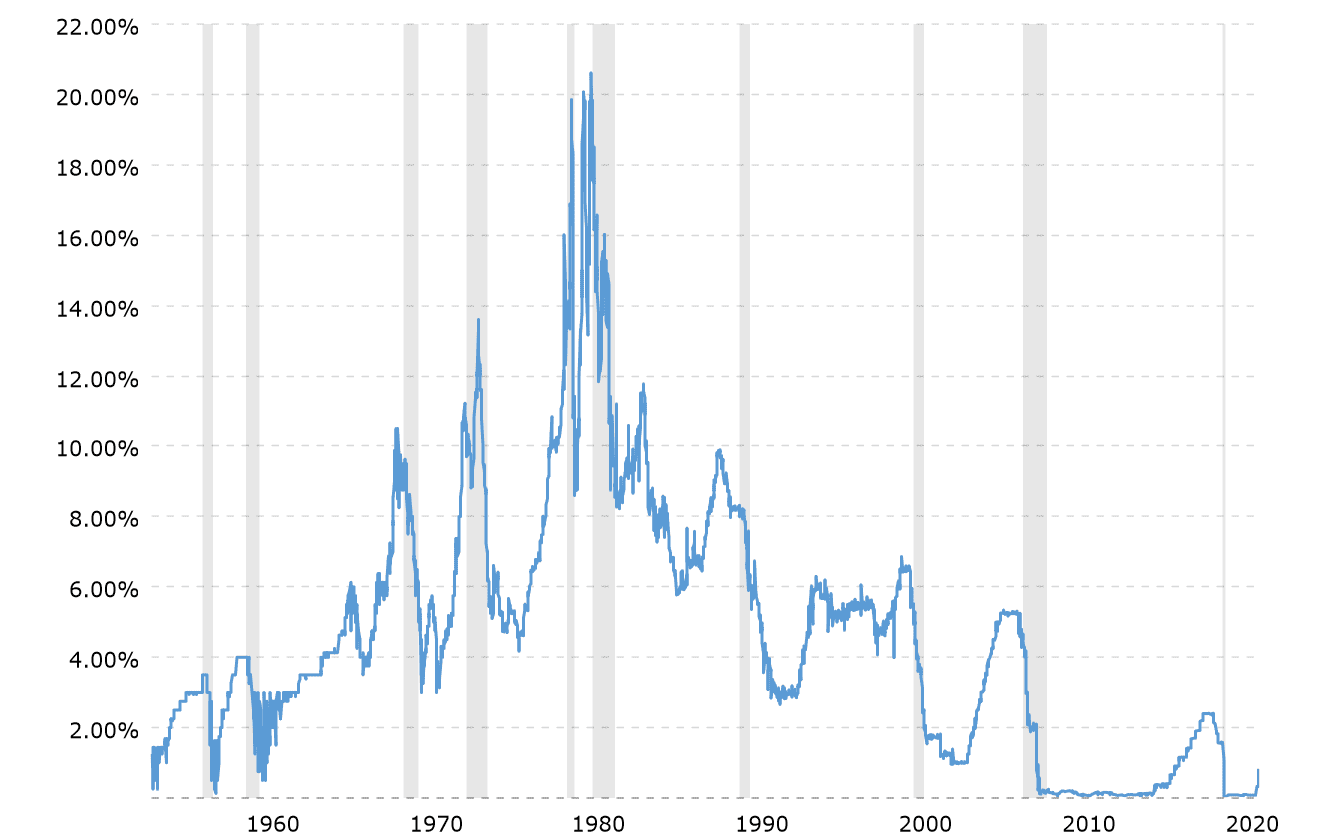 Federal Funds Rate – 62 Year Historical Chart
Rising interest rates are reducing buying power for many buyers. Depending on your search price level, this may affect the level of competition for you. If you are still house hunting, but your competition is quitting, it's good for you.
Stay in touch with your lender. Your monthly payments will change as your interest rate goes up. You do not want to make an offer that you can't (or shouldn't) be spending every month. Here's a handy-dandy calculator to do this math yourself.
Right now jumbo rates are lower than traditional rates. Therefore buyers in the higher price ranges are being less affected than the starter home and condo buyers. (!)
The statistics about rising prices are inflated because of the type of properties that are being sold. 
If you look around, houses are being gut-renovated before going on the market all over the place. That $200,000-300,000 in renovation costs is added to the sale price. Therefore, some of the increase in price is due to the sale of improved properties.
Larger properties have been more popular since March 2020. Larger properties are more expensive than smaller ones, typically. So when the data are about all houses or all condos, the properties sold since March 2020 tend to be larger and more valuable.
Competition is based on supply and demand.
Demand is stacked against buyers; it's high. If it goes down some, it will make the buying process less supercharged. That will be great for us and good for you!
Prices are still expected to go up in 2022. Part of this is the high demand, and part is the improved and bigger housing that is being sold.
Don't believe the hype
Please don't bother with Monday's Boston Globe story. Here is the summary, with my editorial comments:
People bought a run-down, 100ish-year-old house and found not only $65,000+ of work to be done, but a shotgun in the attic. They paid over asking price. They waived their home inspection. Buyers are supposed to compete with people who buy recklessly. Now, who does that story serve?
Not only that, but interest rates are going up! They quoted a buyer who had a 1% increase in their rate before they locked in, which caused a $500 increase in their monthly mortgage payment. (That family had a Latinx name and their rate went up from 4.6% to 5.6%). Then, they quoted another buyer who began house hunting when rates were around 3% and they are now being quoted 5%. (They had an Anglo last name).

They missed the story here! There is discrimination about rates, and Latinx people are getting the shaft. 
This is terrible buyer-client care. Any agent in our company would have told the buyer to check the monthly cost, at the current rate, on the day of the offer. Lenders we work with are conscientious about advising our clients to rate lock at the best time during their transaction.

Buyers should expect to pay more and get less. That is the theme of every "scare the buyers" article. This year a $1.5M buyers was described as needing to make compromises. Now, who does that example serve?
Is the market going to crash? Well, even if it does, values won't go down. Now, who does that conjecture serve?
Remember those buyers with the $65,000 in repairs and a gun in house? They feel so lucky, because prices are going up, so the seller could have gotten more. Now, who does that conjecture serve?
Yet an article in the business section about what government can do about residential real estate wasn't a hot topic that was shared and discussed. In that article, it explained how the hot real estate market is being made worse by not creating and enforcing public policy that would create opportunities for home ownership. Why isn't that the story?