Incredible shrinking insulation
I've been in thousands of basements over the years and I can tell you that a home with well-insulated heating pipes are rare. This winter with oil prices at record highs, it pays more than ever to insulate your heating pipes.
In most homes, the uninsulated heating pipes are just heating the unfinished basement and quietly draining their owners' wallets.
Last Spring, I replaced my 82-year old boiler, which left me with lots of bare pipes in the basement. So, now I have the chance to make my basement the exception and insulate my pipes.
My favorite insulation is foam tubing – it comes in 3-6 foot lengths and you can just slip it over the pipes, then seal it. You can even buy it pre-glued, to make the sealing process easier. Unfortunately, foam doesn't stand up well to high temperatures, so it can't be used for the pipes closest to a boiler and shouldn't be used at all with the feed pipes of a steam boiler. Those pipes need fiberglass sleeves which is less flammable and won't shrink at high temperatures.
I went down to my local big-box hardware store and bought some pipe insulation, but when I got home it seemed a bit undernourished. When I compared them to the old insulation from 25 years ago, I found it was half the thickness of the old insulation, and had much less than half the insulating power.
This gaunt insulation may be good for return pipes and cold water pipes, but for the pipes that are the hottest you need better insulation.
I went back to the store to buy some thicker insulation and there wasn't any on the shelf – and there wasn't any available on their website. I checked the other big hardware retailer and found the same emaciated pipe covers.
So, I set out to find something better.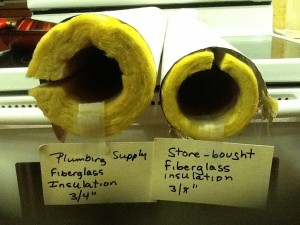 I went to my local plumbing supply warehouse and they had fiberglass insulation with a 3/4" wall. Twice the thickness of the store-bought insulation. It cost 50% more, but that seemed like a fair deal, since it supplied more than twice the insulating power.
When I tried to buy thicker foam insulation there, I was disappointed – the thickest they had was 1/2", not much heftier than what I had bought at the store.
I was able to find better insulation – for smaller pipes, you can get Tundra Plus insulation at www.acehardwareoutlet.com and at some Ace Hardware stores. These foam tubes have walls that are up to 1" thick, though the thickest ones are hard to find.
For the widest selection of sizes, try Grainger at www.grainger.com – they have a vast selection of pipe insulation in many sizes and foam and fiberglass insulation with wall thicknesses of up to an inch. You can order exactly what you need from their website and have it shipped, or pick up within a few days at one of their 400+ branches in the United States.
Winter's coming for sure. I'll have more on how to lower your energy bills shortly.
Frugal homeowner tip: City Paint in Arlington, Cambridge and Somerville will give you a $10 gift certificate for any of their stores when you join their mailing list.
var _gaq = _gaq ||
[]; _gaq.push(['_setAccount', 'UA-20862213-1']); _gaq.push(['_trackPageview']);
(function() { var ga = document.createElement('script'); ga.type = 'text/javascript'; ga.async = true; ga.src = ('https:' == document.location.protocol ? 'https://ssl' : 'http://www') + '.google-analytics.com/ga.js'; var s = document.getElementsByTagName('script')[0]; s.parentNode.insertBefore(ga, s); })();