Considering buying? If you are thinking of anywhere in the northern third of this country, you need to remember that winter will always come.
It is way too easy to forget the slings and arrows of winter living here, once the white stuff melts and flows away. Don't! Snow conditions will affect you for weeks every year, and months for some years.
Common complaint-worthy issues: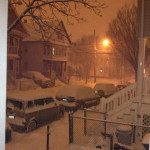 Locations with chronic parking shortages. These get much worse when snow piles up. About twenty percent of the available parking disappears when there are piles in the street. In some towns, that shifts to more like seventy percent until the one-side of the street ban is lifted.
(Suburban towns mostly require that you park overnight on your own property. For these, see, "shoveling conundrums" below.)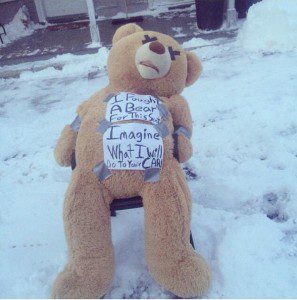 To mark your spot or not. The mark-your-spot wars get pretty hostile in some communities. The "rules" are likely to change over time. Cambridge and Somerville are taking your things and throwing them away, if you try to mark your spot. Boston's new mayor is just asking for peace. If you don't own your own spot, this aggravation will be with you, annually.
Shoveling issues:
Small lots do not have good spaces for snow piling. This increases shovel time because you must shovel uphill/onto piles that can get high in heavy snow winters.
Corner lots = twice the sidewalk.
Long driveways with garages at the end = long shoveling needs or the garage does not get used for the car in the winter.
Narrow driveways with no snow pile spaces on the sides. This makes blowers less useful, or not useful at all.
Hilly driveways are a hazard while driving or walking.
Hilly walkways are hard to walk on and must be shoveled immaculately.
Many stairs. Well, they are many stairs.