Locks: what kind of lock adds to your security?
I took this picture in a condo building. It was the kind of building that had one hall, with a front and back stairwell that led outside. There was an elevator in the middle of the row of units.
My client was a single woman.
As we got out of the elevator, I mentioned that units at the end of the row, near the back exit door, are more attractive to burglars. As we walked down the back stairs, we came upon this door.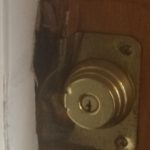 That is a deadbolt lock. They have a longer, rectangular metal piece holding the door to the door jam. Someone had attempted entry. If that crowbarred lock had not been a deadbolt, the burglar would have entered.
In a typical knob-mounted lock, a triangular metal piece (latch bolt) goes into the door jam. It is easier to open with a crowbar (or credit card).
What's a house hunter to do about locks?
The lesson of this is to be mindful about general safety. If you are looking at a condo or house where a burglar can easily come in and out, unnoticed, then your locks need to be more secure. Upgrading your locks is a fairly simple thing, unless you are in a large association where a management company makes those changes.
It is a good idea to install deadbolts on all exterior doors. One note, the inside of your deadbolt should have a latch, rather than using a key. In case of fire, you could be in danger while you are looking for the key in order to get out.
Alarms
Some houses and condos have hard-wired security systems. Some will alarm when doors and windows are opened. Some have motion detectors that alarm if there is movement in the house.  When the alarm sounds, the owner is notified. If the owner doesn't respond, the police are called. Since hard-wired systems are realty (part of the house that will stay), buyers should take note of their presence.
Most of these come with a subscription for a monthly plan that monitors the alarm. If you don't want to buy this subscription, some of the hardware can continue to alarm when doors or windows are opened, without the owner getting notified. Some do not sound without the subscription. Some alarm every day, to remind you that your subscription has lapsed. Gee, thanks.
What's a house hunter to do about alarms?
In recent years, hardware that is not wired has come into common use. The seller can take parta of that system, since it is not realty. The seller can take the plugged-in components with them when they go, but should leave mounted motion detectors and door and window contacts. If you want a working system when you move in, you need to ask for it, at the point of offer.
You can purchase your own kit and start fresh, too. That will allow you to alarm your house the way that works best for you. The notification can go directly to your cell phone or a professional monitoring service.
Cameras
Cameras are allowed in Massachusetts, but not audio recording without two-party consent. Many people have cameras on their front porches to see who is at the door, and to watch people steal packages from the porch. Some have cameras inside, too.
What's a house hunter to do about cameras?
Cameras outside rarely record sound, but some might, illegally. In terms of cameras in housing that you are looking at, assume the worst. It is possible that a camera or other listening device (like Alexa) are listening to your conversations with us.
In terms of your purchase, note the locations of mounted cameras. If you want them to remain, then they should be added into an offer on the house. If cameras remain, we also need to get information on how to connect them to a system, so they are useful to you.