Merry Christmas to all Christian house-hunters.  Mary, Mother of Jesus, can be seen in yards throughout the region. On December 13, I ran into this pretty Mother in front of an open house. She was a well-maintained pious statue in front of a house that was in generally poor condition.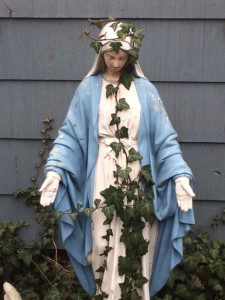 This Blessed Mother is considered — in the eyes of the law — part of the real estate for sale. She is cemented into the yard. Were someone who is not Christian to buy this house, I hope she would be given to someone who would appreciate her. Someone put a lot of care into her.
The first person to identify the address of the house where Mary is currently residing will get a Dancing Deer gift basket. Write us!