Is someone who participates in discriminatory speech (or hate speech) in their social settings trustworthy to practice Fair Housing Laws? The National Association of Realtors® says, "No."
There's a new standard of practice being added to the Fair Housing Section of the Realtor Code of Ethics. It prohibits discriminatory or hate speech by Realtors®. How is this different? Weren't Realtors® always prohibited from using discriminatory speech? Nope.
Prior to this moment, The National Association of Realtors® (NAR) prohibited discriminatory behavior in professional contexts. Realtors® followed the law, but in their social settings, they did not have to respect civil rights. And many didn't and don't.
How Realtors® safeguard fair housing, or not
NAR Ethics Committee Chair regarding the 2020 ethics code change. A video.
Social segregation
In the office:
When I wrote about housing discrimination some months ago, I got a call from a fellow Realtor®, who is a Black man in the Boston area. His professional experience has been that he only gets referrals for Black buyers or sellers from his white Realtor-associates and allied professionals — like lawyers or inspectors. His personal experience is that he has never become part of the community because of his color. Instead, he is the token who works with Black people who come into the office. He didn't tell me of any overt hate speech, just a sense of distance that wasn't typical of his office.
Real estate is a good-will business. My staff and I get things done because other Realtors® like and respect us. We get referrals because they like and respect us. We give referrals to people we like and respect. If our social sphere is segregated (and many in America are), does that hurt Black people who are trying to make a living in real estate? Probably. Is this subtle and hard to pin down? Definitely.
How is the professional life of a Realtor® affected by their office mate who shares racist (or sexist) memes on social media? Does that create a hostile environment? Does that strengthen the barrier to being part of the community? Definitely.
With the public:
Realtors® — when they are doing their job well — support communities in the course of their work. Realtors® who think that pleasant communities must be all-white communities are not in alignment with Fair Housing Laws; that bias is bound to come out in how they advise their clients. It is not a neutral real estate opinion that white neighborhoods are more financially stable and therefore a better investment; that is a racist opinion, based on the racist history of real estate.
Although agents follow the lawful instruction of their clients, agents have influence. If an agent disrespects Black people, personally, can that agent turn that attitude off when presenting an offer to a seller? Or when helping a buyer decide on a neighborhood? The National Association of Realtors® says, "no." And I agree with them.
The National Association of Realtors® issued a statement. The leadership admits that members contributed to wrongdoing, in terms of fair housing. Real change is possible as long as the membership follows the new lead, which acknowledges that discrimination has been part of the NAR's efforts to support property values over people.
"We can't go back to fix the mistakes of the past, but we can look this problem squarely in the eye," [NAR President] Oppler added during The Hill discussion. "Change starts with us. We must remember this history if we hope to repair America's racially divided communities."
Some history: Structural discrimination in housing
Owning property and the wealth gap. A video.
Until 1968, a seller or landlord could refuse to sell or rent a house or apartment to Black people. Fair Housing Law made that illegal in 1968.
The Great Depression caused many white people (as well as many non-white people) to lose their homes or be unable to pay rent. Among the efforts to decrease homelessness, the Federal Government created Public Housing. In 1937, it became an ongoing program.
Public Housing benefited white people, and also Black people.
The National Housing Act of June 27, 1934 funded home financing, improved housing standards, and increased employment in the home-construction industry in the wake of the Great Depression through the FHA. The Federal Housing Administration (FHA), is an agency within the U.S. Department of Housing and Urban Development (HUD).
Subsidized home loans were specifically denied the Black people. The new housing built through the National Housing Act benefited white people who could buy it.    
Redlining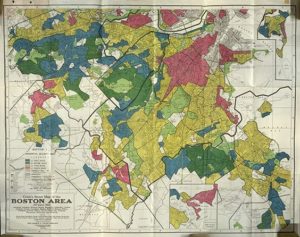 Mortgage loans were denied based on the location of the property being mortgaged. Specifically, Black neighborhoods were considered risky by the HOLC (Home Owners Loan Corporation).
This made mortgages for owner-occupying Black people or non-Black landlords in Black neighborhoods difficult to obtain from 1934-1962.
Most home loans were specifically denied to buyers of property in Black neighborhoods.
Properties that are not able to be mortgaged easily are less valuable, compared to properties that can be sold with insured mortgages. This led to a dearth of investment in Black communities. This is the financial reason that Black neighborhoods are poor.
Even today, areas that were redlined until 1962 are less valuable than adjacent neighborhoods. Years of neglect still show there, even after waves of gentrification pass through American cities and towns.
Some numbers:
White people have seven times more wealth (savings and equity) than Black people. This is mainly because of wealth accrued through home ownership.
$120 Billion = home loans given from 1934-1962. Black people were denied these loans.
73% of white American own houses. 45% of Black Americans own houses. This is improvement from the recent past, but not enough.
Even though America is more integrated than it was, we still live in fairly segregated communities. Here is a map. You can jump to Boston on the link below the national map.