Today, a guest post from Jim Vogel: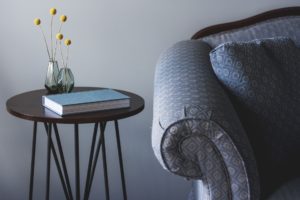 Your home is yours. Your children's wedding photos line the walls, your grandmother's tulips bloom in the front yard every spring, and you can still make out the faintest hint of marker where grandkids made the wall their canvas. But now that you're moving to a new house for your senior years, how will you recapture that lived-in, well-loved feeling? While it's perfectly normal to worry about leaving your family home, there are plenty of ways you can make your new house feel like home. Here are a few ideas to get you started.
Downsize Selectively
If you're moving post-retirement, there's a good chance you're moving into a smaller home that offers senior-friendly amenities like single-floor living. This means that you'll be faced with getting rid of some belongings or putting them in storage in order to fit comfortably into your new house, but how do you decide what to part with or what to keep?
Get rid of multiples like duplicate dishware and linens, keeping only what you need for personal use and guests. Pare down furniture sets to a few key items, and swap the oversized dining set for a smaller table in a similar style.
You can save more while still conserving space when you get creative. If you have boxes of kids' clothes you dread throwing away, pick a few stand-out items and sew them into a t-shirt quilt. If you're not crafty yourself, you can send fabric to a company like Project Repat to have a quilt made for you. Shelves full of photo albums can be digitized and collectibles can be photographed and sold, with just one or two signature items preserved. Libraries can be replaced with a well-stocked ebook.
Prioritize Unpacking
Nothing feels less homey than a house full of unpacked boxes. Start unpacking while you still have momentum from moving, and look into hiring professional help to keep the process manageable.
Start by focusing on the necessities like kitchenware, bath towels, and bedding. Step two should be items that feel like home: A well-loved quilt, family photos, or a favorite tablecloth are a good start. Try photographing mantels, dressers, and cabinets before your move so you can replicate layouts in your new home and impart a sense of familiarity. Even a small detail like photographs hung in the same orientation can help you feel comfortable in your new home.
Redecorate
New homes tend to be decorated in neutral tones, unlike the wallpapered homes of days past. While modern design helps maintain a home's resale value, it can also feel foreign to a senior who bought their family home in a different era. Consider spending some money to transfer familiar design elements into your new house's interior design. If you plan on passing your new home down to a family member, you might also want to consider getting their input as you get going on the decorating process.
But don't overwhelm yourself. Know that relatively small changes can make a big difference. Curtains can be hemmed to fit new windows, kitchen motifs can be tastefully reproduced, and wallpaper themes can be incorporated into an accent wall in the new house. Such redecorations are probably beyond the scope of a DIY project, but with a budget and some planning ahead these modifications can make a new house feel homey. One thing you can do on your own? Dig up some of those tulip bulbs and plant them at the new home.
No matter how you approach your move into a new house, it's important not to rush the process. Take time to reminisce as you sort through your home and put careful thought into the items that will make the move with you. After all, you spent decades filling your home with love and memories, and you can't be expected to tackle it in a weekend. If the process feels overwhelming, there are professionals who can help you strategize your move without the hurry.
Jim Vogel and his wife, Caroline, built ElderAction.org after becoming caregivers for their aging parents. Jim focuses on helping ensure seniors are able to thrive throughout their golden years by sharing pertinent resources and information.