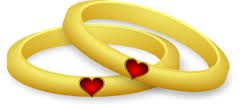 Congratulations! M_ and M_ announced their wedding date next August. A little while later, they told me their house hunting plans. They want to start looking in January and move into the new place before they are married. That is a good plan. Good decisions take time and energy. Part of what we do at 4 Buyers Real Estate is to give advice on planning and managing the process of choosing a house.
I really enjoy working with people who are in love. I often work with engaged couples as well as women who are pregnant. Many people decide to house-hunt at these happy times in their lives. Couples who are buying their first marital home tend to be in the bloom of love. They are conscious and conscientious of one another's thoughts and feelings.  Women expecting a baby have high hopes and expectations about the baby and the baby's room, too. Happy people are easier to work with. This is Buyer Agent bliss. But it isn't always the best thing for the buyers.
Let's talk about stress…
Stress happens to every home buyer sometime in the process of buying a home. Different people experience it at different times. Some stress-out during the hunting, some stress-out during the offer, some during the inspection, some at the signing of the P & S, some at the closing. Some feel stress throughout; some have only a few moments. No one buys a home stress-free.
When I look at the Social Readjustment Rating Scale, which is the grand-daddy of all stress scales, I don't see "buying a house." However, I can add up getting a mortgage (31) and change in residence (20). That stress is up near personal injury (53) and above getting fired from a job (47).
Then, add marriage (50) and/or pregnancy (40), and these buyers have a lot of stress.
The counselor in me thinks the decision to buy a house while planning a wedding or while pregnant is doing things the hard way. Wearing that hat, I wish they would do six to twelve months before the wedding or the expected birth date. The buyer's agent in me knows that most people manage it with good result, with our help.
What's your experience? What is your advice to M_ and M_?