A guest post today by Valerie Taylor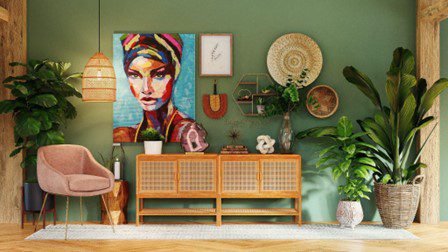 5 Interior Design Trends for the Next Decade
The year 2020 was a game-changer for everyone worldwide due to the coronavirus health crisis. As people spent a big chunk of their time inside their homes, they started to see the value of creating a sanctuary where they could work, play, and rest harmoniously.
This realization paved the way for new design trends that can adapt to the new way of living for the following years to come.
Architects and interior designers are now more in tune with ensuring the well-being of their clients. Keeping the mind and body healthy will go hand in hand with any real estate investment.
Residences and commercial spaces aren't just basic structures anymore. They're places to recharge and reconnect. We've gathered some interior design trends that can guide you in creating a safe and comfortable home.
5 Interior Design Trends for 2022 and Beyond
1.   Green is in
Indoor plants can enhance mood, lower anxiety, and improve focus and performance. With the recent events, people yearned for a connection with nature more than ever. This need inspired the concept of biophilic design. This trend focuses on integrating natural elements into the home's architecture and design.
You will be seeing more hanging and potted plants, reclaimed wood, large green installations, and green walls in homes and offices. Designs will also revolve around structures that will bring the outdoors in. Small terraces, opening windows, Juliet balconies, solar panels, and skylights will be a welcome addition to any home.
These elements can provide a reprieve from everyday stress and too much connectivity.
2.   A space for work and play
More people have embraced working from home, and it looks like this work management setup will stay for the long haul. The need for a defined space for each need—work, play, and relaxation—has made the open-plan obsolete. Separate nooks to distinguish between activities can provide rhythm and harmony to the dwellers' daily lives.
Having various areas doesn't mean there will be cubicles and smaller rooms. The key is to design distinct spaces while keeping a natural flow through strategic sight lines, interior windows, and creative dividers. Work stations will coexist with other areas by making them more minimalist and less formal.
3.   Germs are not welcome
The pandemic has changed people's daily routines. Handwashing and keeping everything spic and span will be everyone's priority. This health consciousness will introduce new creative ways of keeping germs away. Designers will be incorporating shoe and package organizational baskets, vestibules with sinks, and mudrooms in a home's layout.
The idea is to prevent germs from entering the home the minute someone steps foot through the front door. Having a designated area where everyone can wash their hands, remove their shoes, or sanitize packages is going to be a home design must-have.
Aside from securing high-traffic entryways, it's not going to be uncommon to see alcohol sprays and other sanitizing products throughout the house.
4.   Curves will rule
An emerging design philosophy these days revolves around evoking warmth and harmony. One interior design hack to achieve these feelings uses voluminous and rounded shapes. Curved and "chubby" sofas, tubular furniture, softer edges, and organic shapes in pieces will bring a fun and youthful vibe to a space.
Rigid lines and rectilinear designs will be things of the past. The concept of neoteny or the "exaggeration of childlike features" will inspire design pieces. People would want their homes to reflect happy and playful times.
5. It's about mindful choices
Homeowners will be more intentional and mindful when choosing furniture and fixtures. If before, people were more concerned about what was trending, now it's all about investing in pieces that will last a lifetime. Since there's more consciousness about spending, there's also increased awareness about the quality of materials and decor.
Choosing sustainable materials is also going to rule in the next decade. Natural fibers such as wicker and rattan will become the highlight of living spaces. They can be used in carpets, lighting, tables, and chairs while blending with more modern pieces.
These eco-friendly materials use little of the earth's resources and can rapidly multiply in the forests. They will allow homeowners to decorate their homes while being mindful of their carbon footprints.
The Future of Interior Design Values Your Well-being
The home is an integral part of a human's well-being, especially now that more people spend a lot of time indoors. Creating a safe and relaxing space that nurtures the mind, body, and soul will be the next decade's design trend highlights. Having an area where one can harmoniously work and play will be the aim of most designers.
People will need more opportunities to create joyful memories even at home. The choice of furniture and materials will reflect that need. There will also be provisions for keeping the dwellers safe from unseen enemies (aka germs). The bottom line, it's about having a mindfully-designed home that supports one's health, peace, and happiness.