That siding! You've seen it. The one that looks like brick-shaped wall paper that has the texture of roof shingle. Sometimes it looks like stone rectangles, sometimes like roof shingle, instead of like brick. It comes in all kinds of colors.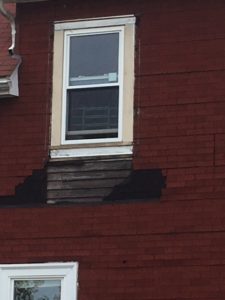 Why would someone put roof shingle material all over their house?
As with aluminum or vinyl siding, people covered old wood clapboard or singles with siding that didn't need painting. These asphalt singles maintained their color, year after year, and didn't need to be painted.
What are the problems with this kind of siding?
This siding was used beginning around 1904. Many houses in eastern Massachusetts were built when this siding was a common building material. It went out of style. If you have it on your house, it is old. If it gets damaged, you are unlikely to find a matching replacement tile to patch it.
If your siding was manufactured between 1930 and 1970, it might have asbestos in it. If that is so, there are precautions you need to take if you remove it.
What does it cost to replace a whole house's siding? A lot.
Someone on Inspectapedia got specific. (I am not vouching for this, but it is a good indication of material costs, compared to one another):
Typical U.S. Prices for Siding per 100 sq.ft. – Material Costs for DIY projects
Vinyl siding: $80 – $100 but note that a layer of plywood or OSB heathing is needed below
Wood Cedar 4×8 sheets: $100 – $125 LP "SmartSide"
Plywood siding, T111-LIKE: $100 – $200 "Plytanium" exterior grade plywood
Plywood veneer on hardboard: $120 – $200 "Duratemp"
Fiber cement shingle: $300. GAF Weatherside
Aluminum siding: $200 / square (Menard's 8″ Textured Solid Color prices in October 2017)
Fiber cement shingles: $100 – $120 (GAF Weatherside at Home Depot)
Nailon Brick Siding Panels: $500 / square
Thinbrick Siding: $380 – $680 / square (redlandbrick.com 2017)
Brickface: $ see nailon, zbrick type siding and thinbrick siding above
Some Installed Prices for Exterior Wall Coverings (Prices for Siding per 100 sq.ft.)
Stucco, synethetic: $600 – $1000 – INSTALLED
Fiber cement siding $600 – $1000 – INSTALLED
Stone Facing: $1200 – $2200 – INSTALLED