There is high demand to buy housing. In 2020, people had months at home, learning everything they hate about where they live. So, when real estate started up again this summer, buyer demand was high.
In the summer, the best sales were on empty houses, since neither buyers nor sellers were comfortable with showings of occupied properties. Over the summer, I kept hearing that the sellers have moved to the Cape, full-time, or have left the area. The sale of vacation homes boomed; and some will be primary residences. 2020 was the year when many over-housed baby boomers had it with maintaining their big houses and chose to live where they really wanted to live.
There is still an inventory shortage this autumn, but it is changing.
If you want a single family house, with a private yard, expect competition.
If you want a condo, with a private yard, you may see competition.
If you want a condo with a shared yard, you may find house hunting less competitive.
As the winter sets in, expect less competition.
This autumn, we are looking forward to winter house hunting season. It may be a good time for our clients. I am hoping, for the sake of our buyer-clients, that there will be another surge of houses for sale. What I hope for is that more boomers move to their warmer-clime houses for the winter and don't want to come back to their empty nests next spring. That will free up the family-sized housing that everyone is looking for.
Who wants to buy a house in the winter?
People who want to be in a house before the spring.
People who hate the hoopla of the competitive spring market.
People who want to save money.
Dave Twombly put it this way in a November, 2012 blog entry. This year looks like more of the same:
It's been a tough go of it for some of my buyers in the past few months. The inventory of houses on the market has been low and the demand has been rabid. You go to a cozy little Cape in Arlington and see that 35 people have come to the open house and the seller gets 12 offers the next day.  A similar story happened to clients of mine in Somerville recently.  As the search continues from the summer, through the autumn and into the winter, my clients asked me (cue dramatic music),

"Can we buy something over the winter or do we have to wait for spring?"  The answer, is "Yes, and you might even get a deal."
For those of you who can be patient, the winter can be a great time to buy a house. While the inventory might not improve (and even slack off even more) so too will the demand.  The mentality of the seller also changes.
Who wants to sell a house in the winter?
As my highly educated, savvy readers know, the spring is the popular time to sell your house.  Serious and casual sellers alike list their properties for sale as the buying pool swells.  What's a casual seller?  Someone who would like to sell their house but doesn't need to sell their house.  (See where I'm going here?)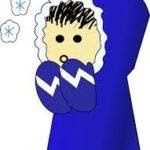 As the season progresses, our shorts and flip flops turn to pants and fleece vests and then into winter jackets as we huddle against the cold, sellers' anxiety increases because oftentimes, folks who are listing their properties for the first time in the winter have to sell their properties. When someone has to do something as opposed to wanting to do something, they tend to be more flexible.
Winter is the time when sellers will bargain, because they do not want to wait until spring to sell their houses. (If they were willing to wait until spring, it would not be on sale in December).
So, my friends who are still searching, be patient, keep your chin up and there's a good chance that you'll be rewarded.