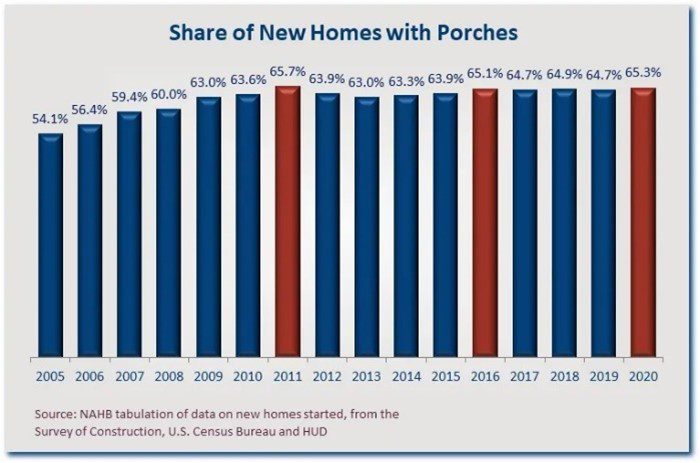 The porch made a strong comeback in American home architecture. In 1993, 42% of new houses were designed with a porch. By 2005, more than half of all new construction had porches. In east south central America (Kentucky, Tennessee, Alabama, and Mississippi) 89% of newly constructed houses have porches.
Why does America have a love affair with porches? It has only gotten more intense after Covid-19 kept us at home in 2020. When I work with house and condo buyers, they almost always want to have someplace to step outside, even if it is only a small porch. It makes a difference, even in a large brick-sided condo building. Some make use of every square inch of outdoor space, with plants and a chair for sitting outside. Others want to be able to keep the large sliding glass door open and not worry about rain getting in. For some, it becomes storage.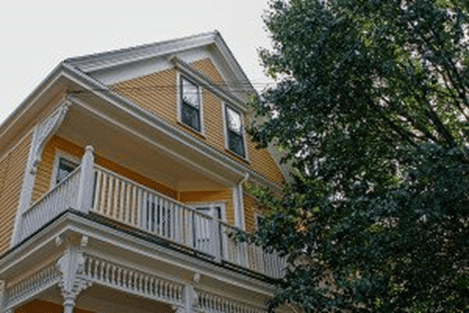 Most condos in a two or three family houses have a porch in the front or the back. Buyers prefer condos that have porches. The amount my clients use them, after purchase, is a lot like my big building buyers. Not as much as they expected to use them. Many don't use them at all. Instead, they rely on their back yard space. One of the negatives about two or three family condos is that the bigger units are often upstairs, away from that yard space.
For single family house buyers, many see the porch as the natural transition from house to yard. A door with a landing just doesn't cut it. One common project fantasy is to add an enclosed porch to buffer the living room front door from cold wind in the winter. Most of our clients never get around to it. The other frequently fantasized project for single family buyers is to add a porch off the back, usually from the kitchen or dining room. Most never get around to that, either. The lesson to learn from that is that if you really want a porch, buy a house with a porch.
Yet the romance with porches remains part of the buying dream. An article in the Wall Street Journal quotes that a porch "friendlies up the house." I tend to agree. When I am on the porch, I am happier. When my tenants are on my porch, they are happy, too. When I visit friends and hang out on their porch, life seems more relaxed. Since 2020, I see my friends on my porch more often and I see my friends who have porches more often and for longer periods of time.
In New England, porch season is pretty short. In 2020, porch heaters became a hot commodity. That extended the time when we could hang out together, outside. With heaters, it was comfortable out there in April, October, and November. Some even braved it during the winter months. During 2020, that was critical. Some households have kept that trend going, others now have unused heaters on their porches.
Some of my clients did major upgrades to their porch furniture, since the porch was now entertainment space. Many increased their outdoor lighting. This was more true in 2020.
At the end of 2020, builders were picking up on the need to build porches. Blogs abounded about the future of the porch after the 2020 Covid lockdown. Some hoped that porch use, especially the front porch, would increase neighborliness in America. Even the New York Times published about this in 2020. By 2021, there are fewer Google hits on stories about porches. Has the trend peaked already? Is your porch habit part of your life now, or has it passed?