When our clients consider buying into a condo association, we remind them to check the association rules. The rules are binding and affect daily life. Some of the rules that irk our clients actually make some sense, when you remember that condos are owned by people. People will be people.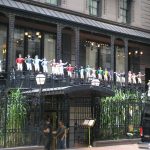 Bigger buildings often have rules about what you can put on your balconies, and what you can't put there. They fall in to two categories: the anti-fire and the anti-tacky. Most people understand the former, but not the latter.
The problem is that tacky is in the eye of the beholder. Some associations go so far as to restrict the color of the fabric of curtains that can be seen through the windows. In this way, the windows of the building are a consistent white or off-white, instead of a random assortment based on the taste of the residents. (An anti-tacky effort, indeed.)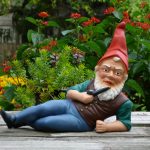 Smaller associations of townhouses sometimes give owners a choice of exterior colors, or some color restrictions. These are in force even where the owners pay for the painting themselves. Independent-minded buyers often react to that badly. Why should they be able to tell me what color I can paint, even if I am paying for it?
Well, this is why: