A guest post by Henry Walsh
With so much attention focused these days on how we can live more lightly, there's plenty to love about the current real estate landscape. More homeowners are making eco-friendly upgrades to their homes. And when those homes go on the market, you can benefit from these conscientious decisions.
While many of these upgrades are expensive to install, in the long run, they stand to save you a lot of money. Buying a home that's already retrofitted with any of these items benefits a buyer in several ways. You'll enjoy the savings associated with these features without the expense and hassle of installing them. Bearing this in mind, here are some features for the eco-conscious buyer to look for in and around Boston.
Solar Panels
Photovoltaic panels are a great way to generate energy in hot and sunny Southern states. But Massachusetts is a great state for solar, too. Installation of a solar array is more affordable here than in most other states and pays for itself more quickly than in any other state — an average of just four years.
Passive House Technology
The Passive House standard is the most energy-efficient type of building in existence today. If you happen to find a house that has been built or retrofit to this standard, you're extremely lucky. The principles guiding this design are super thick insulation, high-performance windows and doors, and minimal heating and cooling systems. Homes that meet this standard cost 90% less to heat in the winter than conventional houses.
Energy Efficient Lighting
Low-energy lighting isn't the same hard fluorescent tube lighting it once was. These days compact fluorescent lights (CFLs) come in a broad range of color spectrums. Dimmer switches add efficiency, and you can program occupancy sensor light switches to make sure the lights are off in empty rooms.
Satellite-Controlled Irrigation
One of the most obvious places to practice eco-consciousness is the outdoor environment. Sustainable landscaping is a surefire way to improve a home's performance, as is following irrigation guidelines. But did you know there are sprinkling systems that conserve water by using satellites to tune into local weather conditions? Finding a home with one of these installed is pure landscaping gold.
Cellulose Wall Insulation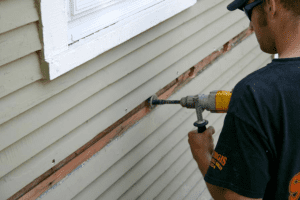 Almost all attics and walls in contemporary homes are built with sheets of insulation. But cellulose insulation can be blown into walls by savvy owners looking to up their insulation ante. Blown-in insulation fills every last gap, lowering energy bills. It also increases a home's fire resistance from 20% to 60%.
As you search for that perfect, sustainable, eco-conscious place to call home, be sure to keep your eyes open for any of these unexpected features. Every little bit of effort to reduce your ecological footprint helps. A house that does some of the footwork for you is a keeper.
Henry Walsh is a gardening writer and eco-conscious living advocate. He recently began his homesteading journey after many years of incorporating the principles into his urban lifestyle.