Here's the second of a series of guest posts on home modifications for accessibility from Terri Williams, of reviews.com.
Toilets
Technology has great potential to make lives easier, and that includes those who want greater independence at home – and especially in the bathroom. A popular project at the moment is swapping out the existing toilet for a toilet with a built-in bidet that facilitates cleansing for people with limited mobility, says Dan DiClerico, home expert at HomeAdvisor. If a full toilet replacement is out of the question, a bidet seat can be purchased for a few hundred dollars to use with an existing toilet, he says.

Another toilet modification that can make a difference is a comfort height toilet. "Higher or comfort height toilets can be installed for greater accessibility and side transfer from a wheelchair," Chicago-based designer Leslie Markman-Stern says. Comfort height toilets can make sitting and standing a lot easier, since they have a seat height that is comparable to a standard chair. These toilets cost as little as $100 at The Home Depot.
Touchless Faucets
Whether in the kitchen or the bathroom, touchless or touch-free faucets are another smart upgrade.  "They turn on and off with a wave of the hand, and not only are they easy to use, they can also help reduce the spread of germs," DiClerico says. Touchless bathroom and kitchen faucets are available at a variety of price points, starting under $100.
If you don't get a touchless faucet, consider updating it from a knob style to a lever-style, which tend to be easier to operate.
Wall-Mounted Sinks
Wall-hung or wall-mounted sinks can be placed at the desired level to ensure they're not too high. "Depending on the style chosen, wall-hung sinks can be installed that have a shroud that covers the hot water pipes (under-sink protectors), and this is important for wheelchair users so they don't burn their knees," Markman-Stern says.  However, there are other wall-mounted styles that don't have exposed pipes. Wall mounted sinks start as low as $70 at Lowe's.
Doorknobs and Levers
Other modifications to improve accessibility include changing door knobs to lever handles. Levers are much easier to open if you have limited strength in your arms or hands. DiClerico says this modification should cost $100 per unit, including the cost of the handle.
Countertops and Storage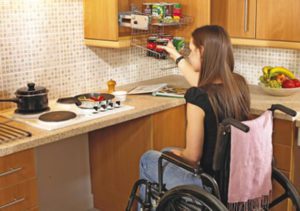 "I also recommend having at least one countertop surface that is no more than 34 inches above the floor, down from the traditional 36 inches, so that someone in a seated position can prepare food," DiClerico says.
You should also remember the "nose to knees" rule. "Create storage options for often-used items, especially heavy or awkward ones, between the nose and knees, so seniors or those with disabilities don't have to stretch far or bend down low when retrieving them," he says. "Installing pullout drawers in lower kitchen cabinets also improves accessibility."
Flooring
Floor modifications can limit falls, and also make it easier to navigate walkers and wheelchairs. "Flooring can be installed that is not slippery, and good for the spine, such as wood, vinyl or bamboo, or low-level carpeting for greater mobility," advises Markman-Stern. According to Home Advisor, the cost to install vinyl flooring is approximately $3 per square foot. Carpeting is closer to $3.50 per square foot, and wood could cost as much as $8.00 to $10.00 per square foot. So if you wanted to replace the flooring in a 1,200-square-foot home, you could be looking at around $4,000 for vinyl or carpeting, and as much as $12,000 for wood.
Markman-Stern also explained how color contrast for floors versus walls, and even the treads and risers on stairs (the horizontal steps, and vertical panels behind them), can help improve the ability to see level changes.
Vibrating and Flashing Devices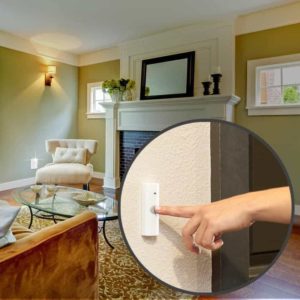 Vibrating and flashing devices can be installed to help the hearing impaired, according to Markman-Stern. For example, captioned telephones, which display every word of the call on a large, display window, can be purchased for $75 at Harris Communications. Also, wireless doorbell chimes with flashing strobes cost around $90.
Original source: https://www.reviews.com/blog/home-modifications/