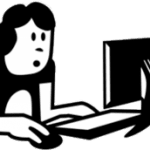 Here's a quick primer on house hunting on line.
Our clients get a customized search in the Multiple Listing Service (MLS). That is the primary database, which shares property information with consumer sites, like Zillow.  Our searches aim to be specific.  The raw data is out there, so some of our clients enjoy seeing it all. Most of my clients "web around" to sites like Zillow to look at images of properties for sale.
This list will help you read the data and understand why some property disappears and sometimes reappears on the lists.  Some of the intermediate situations are not logged clearly. That creates listings for property that is under agreement, and not really still for sale. There are also, properties that are coming soon, that cannot yet be shown. We look those up for our clients, when they want us to.
Here is the way it is supposed to work on MLS:
Properties for sale that buyers can see and make offers on:
ACT means active.
NEW means just listed. (These include properties that were listed before under a different MLS number.)
PCG means price change.
Properties marked BOM have come back on the market after the active marketing has been suspended by being UAG, WDN, CAN, or EXP. Sometimes, I see this marked as RAC, which means reactivated.
 Properties that buyers can see, but are already spoken for:
Properties that have CTG have an Offer accepted, but there are still contingencies. Some sellers want to show their houses right up to closing day, in case something goes wrong.
 Properties that buyers cannot see, but will be for sale soon:
In 2019, MLS is rolling out a new category. Coming Soon will be for properties that are not ready for the market, but will be in the near future. No consumers are welcome to see the property until all consumers are welcome. This is designed to get property information out to consumers before construction or renovation is completed.
Properties that are no longer for sale, but are found on some lists:
Properties that read UAG are under sales agreement and not actively being marketed. In most interfaces, they disappear from view.
Properties that have the designation CAN have a cancelled contract between the agent and the owner before the contract period ended. Those that read EXP had the listing contract expire. The seller may have chosen not to sell. Or may be selling now as a for-sale-by-owner. Or may list again with the same agent or different one. Look for the house again as a "for-sale-by-owner" or as BOM or RAC or NEW.
Properties that have WDN are withdrawn from the market. This could mean the seller needs a week off from showing it, or a month. However, the agent is still under contract with the seller. These may come back as BOM or RAC or NEW.
 Zillow and other consumer sites:
Zillow lists properties that are for sale, for rent, potential listings, and sold properties. They also allow specific categories such as new construction or  pre-foreclosures.

Apartment or condo? Don't be confused. Some listings in the "for sale" section are labeled "apartment". This means it's a condo, not a house.
Pre-foreclosure. Because of the way these lists are compiled, many of the properties posted as pre-foreclosure never come to the market. When property owners are given their very first notification of default proceedings, their property will end up on some "pre-foreclosure" list. Fortunately for property owners, the economy in Massachusetts is strong enough that many of them remedy their default situation long before the property is lost to foreclosure.
Make Me Move. When we research this type of listing, we generally find sellers who are willing to sell for a price that is no bargain to consumers.