Anyone who is thinking of buying in a town where they do not live should test drive the town before starting to house hunt. A cursory look at the Multiple Listing Service (MLS) will give you an idea of where you can afford to be.
If you do not know the area, spend some time there. Do what you normally do: Go grocery shopping, go to a playground, go to a movie, walk through town, and/or go out to dinner. If parks are important to you, then go to the parks, same for libraries, community centers, senior centers, schools, and little league games. If you do not like being there, you are in the wrong place.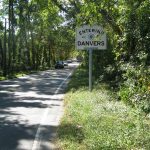 First, check out the town.
If you are a parent, or hope to be one, go to places where children and their parents go, you can find out what the children are like, and their parents, too. Watch the behavior of the children and their parents in town; that is the culture you children could grow up in.
If adult activity is what you will use most, or think is most important, go to those places you'd like to frequent if you live there. If you love movies, check the local movie listings. If there is nothing you'd go to there, week after week, you have an answer. If you like to eat out, do it there. If you like fairs and festivals, start attending some there. Most towns have calendars on line and movie listings are easy to get.
Don't forget to do a preliminary check on the commute. If you can't get to work or the activities you love, you won't like living there. Once you rule a town in, you can drill down a bit more about the nitty-gritty of your daily commute.
Second, check out what the market is bearing there.
Once you know the area or areas you like, then you can more comfortably balance the questions of size and condition. Now is the time for a full-blown MLS search.
A home in the "best" location may be too small or too run down for you. Sometimes another good — but not great — location will afford you more space or a better condition.  Sometimes the location will make it worth getting a smaller house or a house that needs some work. Sometimes not.
A smart buyer chooses location or locations first because it is the thing that you cannot change once you buy. Check your commute, your walking routes, your regular shopping routine, night safety and quiet. If you have flexibility in your locations, you will have more choices. I am not saying that you must move far away or into a bad neighborhood; rather, I'm encouraging you to find neighborhoods that work for you by trying them out.