My lender-friend, Amy Tierce, sent a video meant for lenders about the upcoming real estate year. Remember that their bias is that the more sales, the better. They are not so especially interested in whether you are getting a good deal on the house you are going to buy –that's my job!
The predictions regarding buyer and seller behavior in 2014 is this:
Adjustable rate mortgages will gain popularity again, as rates go up. Borrowers were not choosing adjustable rate loan when rates were at all-time lows.
Housing demand is increasing closer to cities.
The right house at the right price is going fast.
What are the things that might slow the rate of sales?
Flood insurance changes will have a chilling effect on real estate transactions in coastal areas. This does not just mean on the beach. There are flood zones in Newton and Arlington and other towns in our area.
Conforming mortgage limits (non-Jumbo loans) and FHA loan limits were lowered in some places. Conforming loans have a lower rate than Jumbo loans. The point where that higher rate kicks in is now at lower thresholds. In Middlesex and Norfolk counties, where most of my clients buy, have a limit of $417,000 for conforming mortgages, and another rate for high balances of $465,000. (Jumbo rates apply to any loan above $465,750.) FHA loans, for people with moderate income or low down payments, also have a conforming rate at $417,000 and a high balance rate that goes up to $465,750. (No FHA mortgages are allowed above that $465,750 limit.)
Credit score requirements for conforming (FMNA and FDMC) mortgages have risen to 640, from 590. This will stop some people from borrowing until they improve their scores.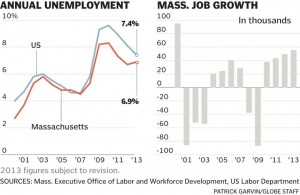 What is the biggest wildcard affecting the housing market?

Jobs, jobs, jobs! In our area, the employment situation is looking pretty good.