The news of the day regarding real estate in the Boston area is that FEMA has published new flood maps. These maps determine areas for mandatory flood insurance.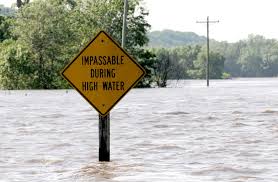 Flood insurance cost brings up a problem that house hunters commonly see in regard to the municipal tax cost. When a house hunter looks at a listing sheet and sees the current taxes, it is a mistake to think the taxes will remain the same. They are most likely to go up, generally. They are even more likely to go up within a couple of years of purchase. In most towns, assessed values change based on recent sales; your new house is a recent sale. If you purchase a house that has unusually low taxes, don't count on that cost remaining stable. Ask your agent for a survey of the typical taxes for that kind of property in that neighborhood.
The same is true – in spades – when it comes to flood insurance. Flood insurance has gone up, astronomically, due to the huge cost of rebuilding after major storms of the past decade. Homeowners who have flood insurance prior to Biggert-Waters Act were grandfathered in to lower rates, which went up slowly over a ten year period. However, upon resale, the flood insurance rate goes up to its current levels. How high can these rates get? High! At a recent GBREB broker meeting, I was told about a lawsuit in Florida where the listing sheet disclosed $1400 a year extra for flood insurance, but upon resale, that rate went to $14,000.
Before making an Offer, double-check you agent and look at the flood maps yourself. Not all flood zone properties have beautiful water views. If there is flood zone property near the house you are thinking about buying, more research is needed. As of this morning, FEMA had not posted the new maps on line.