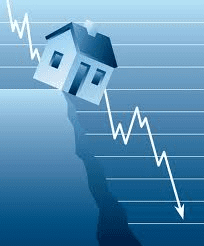 A joke: Economists have forecast ten out of the last three recessions.
Real estate recessions happen when something big affects the economy in general. Because it takes longer to buy and sell real estate than to shift assets in a stock or bond portfolio, real estate recessions take hold more slowly than general economic recessions.
Recessions, in general economic terms, are measured by drops in the Gross Domestic Product. Real estate recessions occur when sales volume (the number of transactions) goes down. What is confusing to consumers is that even when real estate is in a recession, the overall national price of housing does not necessarily go down.
Economic recessions look like this:
National recession talk increases, as borrowing rates change, housing starts decline, stock or bond markets seem unstable.
Consumer confidence decline. Jobless rates increase, nationally.
Mortgage borrowing changes. An early sign of recession is when borrowing becomes easier. This is an indication that the pool of people qualified for mortgages is going down, and lenders are compensating to keep their business levels stable.
Job loss begins locally. Large companies have lay-off or relocate.
An economic recession can lead to a real estate recession:
The number of sales goes down. Prices go down, then come back up.
A pool of homeowners can't keep their houses. Foreclosures increase.
Demand for property goes down because fewer people are confident enough to borrow for a mortgage.
Increased supply and reduced demand causes a dip in housing prices.
Once prices begin to decline, consumers who have been waiting for an opportunity will come back into the market. Prices then stabilize and begin to go up again.
With one exception (the 2008 recession), a recession does not cause declines in house and condo values.
But prices do not necessarily come down
ATTOM Data Solutions, a leading real estate data provider, looked at home prices during the five recessions since 1980 and found that only twice—in 1990 and 2008—did home prices come down during the recession, and in 1990 it was by less than a percent. During the other three, prices actually went up.
"Housing is such a basic need that it won't necessarily do well, but [it will] at least truck along," said ATTOM's Daren Blomquist. "It may flatten out a bit, but people still need somewhere to live, so that basic need is going to cause how the housing market—and particularly home prices—to continue to go up."
Source: https://www.curbed.com/2019/1/10/18139601/recession-impact-housing-market-interest-rates
What are the risks of buying just before a recession?
Buying in a rising market, with hints about a recession coming. What to do? If a real estate recession is coming, these are the risks:
Short-term real estate purchases are riskier than buy-and-hold property ownership.
When you buy with the intention of living there for five or more years, you spread out the costs of purchasing, selling, and nesting. As a general rule, it costs 10 percent of the property cost to buy and sell it. Those costs include mortgage fees, inspection fees, attorney fees, broker fees, moving costs, and the cost of repair, maintenance, and making the property your own.
If you are buying for the short term, and a real estate recession hits, here are the risks:
Improve-and-sell buyers (flippers) are taking on an increasing risk of buying at peak, then having less demand for their improved property.
Buyers who plan to owner-occupy for less than five to seven years may also find that they have not gained enough in appreciation to break even on the sale of their purchase.
Long-term purchases are less risky during a recession.
If you are living in the house, the decreased market value of it does not affect your life there. In most of Massachusetts, your property value will return after the recession and begin to increase again. If you are living there, and don't need to sell, you can ride out the decrease in value and wait until your equity has grown again.
To be extra safe
If you want an additional hedge against losing money in a recession sale, avoid properties that are harder to sell during a recession. When buyers have more choices, they will refuse compromises that buyers would make during a hot seller's market. Avoid these:
One-bedroom or studio condos. (This is especially true in places where two-bedroom condos are common in the housing stock.)
Two-bedroom houses. (This is especially true in places where three-bedroom, or bigger, houses are common in the housing stock.)
Houses or condos on busy streets or other unpleasant micro-locations, like near gas stations, bus stops, marshy areas.
Properties with living space in the basement.