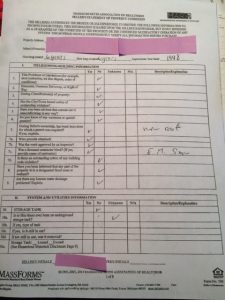 Seller's Statement of Property Condition is a standard form. As a buyer, you may see this 8-page form at an open house. It'll be on the table with a big "DO NOT REMOVE" written across the top. If you like a house and are considering making an offer, you should be reviewing this paperwork before beginning the offer process.
There can be some important disclosures on these pages. However, sellers are not required to complete a Seller's Statement of Property Condition. Legal opinion is divided about whether these forms are a good idea for sellers. (More on this at Happy Homeowners.)
Many attorneys recommend that sellers not complete this form. Greater Boston Real Estate Board does not have its own form. Yet several of the big, National real estate companies have developed their own version of this form and encourage agents to ask their seller-clients to complete them.
The compromise most sellers take is to complete these form by checking the third box, "unknown." Therefore, we regularly see Seller's Statements that are full of "unknowns," even about things that are obvious and known by any owner.
Vulnerability to the buyers who get a Seller's Statement.
If the seller fully discloses, the problems disclosed become a non-issue between the buyers and the sellers. If a problem is disclosed, it is now up to the buyer (or buyer's agent) to investigate the extent of the problem. The buyer will not have the right to come back later and negotiate on a condition they were told about before making the offer.
Because the Seller's Statements are eight pages long, buyers frequently skim them instead of reading them completely. Because offer-writing is frequently under deadline, some sellers are depending on buyer inattention. If a buyer signs off on a Seller's Statement that says there is termite damage in the sill, then the buyer just agreed to accept that condition as disclosed.
Some disreputable sellers and seller's agents will present a Seller's Statement after the offer is accepted, or with an agreed-to offer. Beware! A late Seller's Statement is a warning sign. Read the disclosure carefully before signing it.
Benefit to the buyers who a get Seller's Statement.
If a seller fully completes the Seller's Statement, the buyers have some valuable information about the property. This can save a buyer the trouble of making an offer and the expense of an inspection. It is especially valuable to know about conditions that a buyer and a buyer's agent are unlikely to see while house hunting. Buyers may choose another house if they know that this house has an underground tank or that the deck was built without a permit and is not to code.
The information about the house is coming from the seller, not the agent. This should make the information more reliable. Buyers frequently hear seller's agents guessing about house conditions when the agent should be saying, "let me verify this with the seller."
If the seller willfully misrepresents the property, the buyer has written proof of it. (This rarely happens.)
The takeaways:
Sellers are not required to provide a Seller's Statement of Property. However, many large real estate firms encourage it.
Sellers are encouraged not to guess in writing, so many of these forms are full of "unknown" and therefore not useful for buyers. However, sometimes important defects are noted that could change a buyer's mind about the property.
Once a condition is mentioned, the buyer has accepted that condition as part of the property they are buying. Buyers should read the Seller's Statement before signing one.