What stays and what goes — by law and custom — in real estate in Massachusetts?
Personalty or chattel is everything in the house that was not built into it or built specifically for it. Chattel includes washers, dryers, refrigerators, furniture, chairs, bookshelves, rugs, curtains, and such.
Realty is everything that is attached to the house, wired in, or built specifically for it. So chandeliers are realty, dishwashers are realty. So are the counters, cabinets, sinks, fireplace mantles, walls, floors, wall-to-wall carpets, wall-installed air conditioners, and such.
The "grey area" is anything that seems to be attached, but is not. Also, things that seem to be not attached, that are. This is the stuff that everyone should discuss before closing. Common examples of this are large, heavy mirrors over mantles. If the mirror is bolted into the wall, it is real estate. If it is hanging on a brace, it is chattel; but, the brace is real estate.
Same thing for big TVs. Curtain rods are chattel, but the braces that hold the curtain rods are realty. The brace and rod are a set. Some people think the curtain rod set is realty; some think the rods are chattel. If you want that curtain rod set, mention it in the offer or the Purchase and Sales Agreement.
Another wrench in the works is that Massachusetts law requires that all residential properties have a stove. So, the stove does not have to be written into the offer. Every once in a while, a seller will exclude a specific stove, but will also promise to install another one before closing. The sellers can take the refrigerator, washer, dryer (even the gas one), window air conditioner; they are all chattel.
When we at 4 Buyers Real Estate write an offer for our clients, we go over the items that are chattel that the buyers may want. We also repeat some realty that the seller might be attached to, like hand-made stained glass fixtures.
Custom art in a house
When my clients, T. and E. were selling their house, they asked me for advice. I could tell them about lifestyle decisions regarding this move, but I cannot get into price, because that is a listing agent's job.
These clients had a dilemma: T. had learned to do stained glass while living there and had installed his early work into the house. Should he sell the house with or without his art? There was also a handmade wood wallet holder that came from a relative. Should that stay?
They are leaving two stained glass pieces that T. made.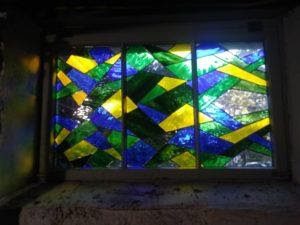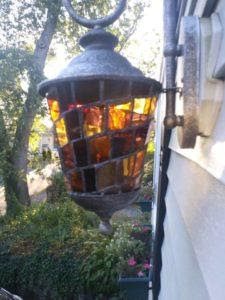 They are also leaving a wallet holder that T.'s father made. He is attached to it, but it "belongs" in that spot and no place else.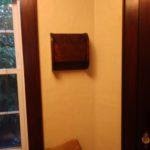 Since T. and E. decided to leave the pieces, a buyer would get them, unless the buyer asked to have them removed. These items are realty – they are attached to the house.
Why we are exclusive buyer's agents and how we find listing agents for our clients who sell
People who are buying houses and condos are people moving in the direction of their dreams. People who are selling are leaving the place where their dreams were fulfilled (or not). This emotional trend is part of the motivation to be an exclusive buyer's agent. I stay motivated by being involved with people who are creating a better life for themselves and their family.
On rare occasions, I advise my clients who are contemplating selling. If or when they choose to sell, the best advice I can give them is to send them to two or more listing agents who I know give good fiduciary service. Quality agents take care to get their sellers the best possible price. There are lots of them. We help our clients find them.
We also help our clients avoid bad agents. Bad agents seek a sale that creates the least work for the agent. We know who the lazy agents are. We take advantage of them; we can get better prices for our buyer clients from lazy and sloppy listing agents.