A new client sent us an email asking about his pre-approval:
Hi Rona and Dave,
Here is our pre-approval letter from _______ Bank.  I had (the loan originator)write it up for $—k with 30% down.  We can adjust it as we see it.
His suggestion was to put 30% down in the letter to make it look better to sellers, but actually finance for 20% when the time came (we have enough money to cover either) — but he said we should see what you think as well.
Oh my God! This is terrible advice! The total down payment that is there at closing has to be reflected accurately on the Offer to Purchase. On page two of the Offer, there is a clause that allows you to get your deposits back if you cannot get your mortgage to close on time. This protection for you is based on what you write in that clause. It asks how much you are borrowing, when you are applying, and when the lender will be completed with your commitment.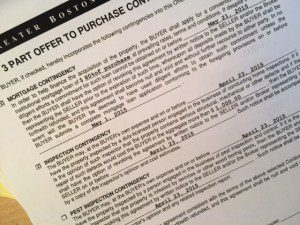 If the Offer to Purchase contract says 70% financing, then you cannot use your mortgage contingency if you go for 80% financing. (An 80% loan is a different mortgage that is harder to get, not easier to get.) So, but misrepresenting the mortgage you are applying for, you could void your protection.
If your letters says 70% and your Offer says 80%, a seller's agent who is on the ball will think you not pre-approved for an 80% mortgage. You don't look "better" if your pre-approval letter is reflecting that you are borrowing less, then you sign that you are getting a bigger mortgage on the Offer to Purchase. Your Offer will be rejected.
You'd have to ask your attorney what the legal implications are. However, your signed Offer is a contract and it should reflect what you intend to do. If you say you are getting a 70% loan, then your deposits are not protected for an 80% loan (which is harder to get). I don't know what would happen if you applied for an easier loan and couldn't get it. There might be a legal argument to be made that you could not have gotten that easier loan, either.
If your Offer and subsequent Purchase and Sales Agreement reflect the actual mortgage you applied for, the protections in that clause apply. If you applied for a different mortgage amount, you can't count on it. As a practical matter, if you get your mortgage on time, there are no ramifications. But, if the closing is one day late because your mortgage is delayed, the seller can keep your deposit and sell the place to someone else. He/she does not have to prove that he/she actually lost anything by your not closing on time. Yikes! You must get the mortgage, and you must get it right on time, or you can lose, big time!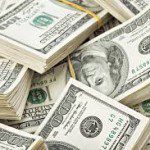 Now, you should decide if you are going to put down 20% or 30%. The larger the down payment, the more solid you look to sellers. But, you should not cut your savings too tight just to make a good impression. Put down as much as you are comfortable with. That is your best foot to put forward.