My day started out at a Joint Committee on Revenue hearing regarding Somerville Transfer Fee Home Rule Petition (H-4582). Somerville Board of Aldermen have created a transfer fee that will charge non-resident owners and buyers a one percent fee when selling and buying property. If the seller lives there, no fee. If the buyer intends to live there, no fee. The funds will go into affordable housing efforts in the City.
No surprise, I am all for it.
I spoke third from last. The speakers in support of this proposal came prepared with facts and figures, and stories and faces. It turned out that most of what I intended to say had already been said. So, I focused on what I know as a buyer's broker and decribed what my clients have been experiencing.
Since 2012, median single family house price has gone from $466,500 to $733,750 at the end of 2017.
Since 2012, median condo price has gone from $385,000 to $733,750 at the end of 2017.
Since 2012, median 2 or 3-family home price has gone from $550,000 to 1,015,000 at the end of 2017.
According to the same source, 2018 looks like more of the same:
Overall appreciation in Somerville, Year-to-Date is 3%.
Properties sell for 103% of asking price.
Properties go to full Purchase and Sales Contract in less than a month, on average. Of the 347 properties sold in Somerville in calendar year 2018, so far, 161 of them had a signed offer during the first week.
It is not atypical for sellers to prefer all-cash offers over well-financed 20% and 30% down prospective buyers.
Many sellers are also giving preference to buyers who are willing to purchase without a home inspection contingency.
Many sellers are also giving preference to buyers who are willing to purchase without a mortgage contingency. (This puts the buyer's 5% deposit in jeopardy if their mortgage is not cleared to close on time.)
I also put some perspective on how this fee would affect developers and non-resident owners (AKA absentee landlords):
Somerville builders and developers are in the business of making money. And money they are making. It is disingenuous to say that this transfer fee is a serious disincentive for developers building in Somerville. Someone selling condos for $1M each can budget to pay $10,000 towards a sustainable housing plan in our city. They just don't want to.
One of the members of the Committee, Jay Kaufman of Lexington, asked several questions about how to keep people honest about being owner occupants. Among the answers were descriptions of a developer– a man from Newton — who purchased eight houses on a single street. (Too hard to live in all those house at once). Someone mentioned "creative accounting" with shell buyers. Just after I said my peace about builders and developers, I brought up the potential for people skirting the fee: The cost of this transfer fee — in balance with how lucrative the market is — makes fraud just not worth it.
My favorite pithy comeback of the day goes to Representative Denise Provost:
Senator Michael Brady, Chairman of the Committee complimented the Somerville elected delegation who attended and remarked that he loves Johnny D's. Representative Denise Provost of Somerville quickly responded that Johnny D's is now a hole in the ground as is about to become luxury condos.
Out of the Hearing Room and into the streets.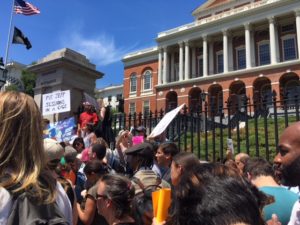 After a quick lunch, I met some friends and attended the rally that started outside the State House, then proceeded back into the building. I was still dressed in my hearing-appropriate clothes, but now I was part of the chanting crowd standing with immigrants. First outside, then through the same halls I came into that morning to stand up for residential Somerville.
Immigration policy is not unrelated to my role as a real estate broker. There are buyers and homeowners who could be affected at any time by the so-called "zero tolerance" program for undocumented people. It affects immigrants who are here legally as well as people who "look like" immigrants. These people include our clients. Because Massachusetts is within 100 miles of the coast, the whole State is subject to U.S. Customs and Border Protection enforcement. Governor Charlie Baker does not support Massachusetts as a Sanctuary State (which would allow State and local police to not help ICE arrest people here).
It was a bit surreal to do both these things, back-to-back. But, this is what democracy looks like. I am part of this democracy. I do my part.