Some of our clients specifically request to see only properties with a dining room. Why? So they can host Thanksgiving dinner. Does that sound like you?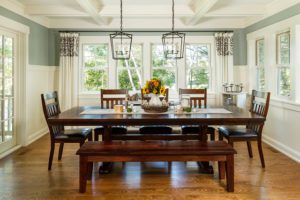 When you think about Thanksgiving Day, does an image come to mind as your mental picture of Thanksgiving? Does that image take place in a dining room? Is it a dining room you currently own or rent, or one owned or rented by someone you know?  Or does Thanksgiving remind you more of outdoor activity or a living room full of football fans?
With my clients, the choice about keeping a dining room on the "must list" is discussed right at the beginning, before we hit the road. This is not a solely urban-suburban question. There are city dwellers who demand a dining room and suburban ones who plan to use theirs as a playroom.
From what I see, it has to do with whether the prospective homeowner plans to entertain via dinner parties or whether guests will spend their time in the living room, family room, or yard. Some people see a house without a formal dining room as one to instantly rule out. They intend to have dinner in a dining room nightly. They want to be "the house" where Thanksgiving is held for the whole family.
Others want an eat-in kitchen. Once there is a kitchen table, the dining room gets light use. Many people then decide that having two tables are a waste of space. The dining room changes into a second sitting room, suitable for a home office. These same people complain that the dining room table becomes the paper piling site.
Dining rooms and property value
The dining room comes up when we do a comparative market analysis. It is common for urban condos to have dining rooms and living rooms combined. Some are two rooms, where the middle wall was removed. Others are one bedroom that used to be either the living room or the dining room.
In order to compare the condos accurately, we need to figure out which has no dining space in order to add a bedroom. This needs to be done, condo by condo. A five-room, typical condo in a two-family house in the Cambridge area often has a kitchen, dining room and living room with two bedrooms. Many are modified. They show up listed in MLS any of these ways:
Five rooms: Kitchen, dining room, living room, two bedrooms.
Five rooms: Kitchen, living room, three bedrooms.
Four rooms: Kitchen, dining room-living room, two bedrooms.
Four rooms: Kitchen, living room, two bedrooms (master bedroom made up of  the former living room and dining room, with one bedroom now the living room).
Where do you stand?
With the family-gathering season upon us, is the presence of your dining room more important to you? Did the presence of a dining room make the top five important features of the place you live in now? Would you rather have an open floor plan, or a separate dining room and living room, so one can do double-duty as a guest room?