As the season changes, I want to encourage you to decide on a home maintenance routine. Why create a routine? Because, then you will do it. Not doing it will cost you in the long run.
Air conditioner filters –

Room-by-room systems: Your air conditioner filter is found on the AC unit. Poke around or check the manual. Most manuals recommend cleaning AC units every month, when they are in use. At very least, do it at the end of the cooling season.
Central AC (HVAC) systems: Put a clean filter in at the beginning of the cooling season, because air conditioners move a higher volume of air than heating. Also, the air has more pollen in the warm weather. Check your manual: you may need to change these monthly.

Heating system filters – Have a clean filter in at the beginning of the heating season. Most manufacturers recommend a clean filter monthly.
Baseboards – Baseboards collect a surprising amount of dust over the heating season. They also collect pet hair, if you live with pets. The hardest part of this project is to move things away from the baseboards to remove the covers. The best time to do this is at the end of heating season, when you can open the windows. Doing it then removes dust that you'd be breathing all summer. Your baseboards are then ready to collect another year's worth of dust!
Gas-fired dryer vents – An annual check is a must to prevent fire and keep efficiency of your gas dryers. Pick a regular time in the spring to go outside, take the cover off and vacuum the dryer vent tube. Inside, you should install a solid metal flue-tube with a removable section, so you can vacuum that tube annually. Electric dryers do not burn as hot as gas dryers, so you are just wasting energy dollars by neglecting them. Clean them every three years.
Gutters – The timing for gutter clearing is a little tricky. You must wait for the leaves to finish falling. By the time the leaves are off the trees, the weather is unpleasant for removing leaves from the gutters. Once everything freezes, it become a miserable job.
Suggested scheduling for cleaning:
Use your electronic calendars or task lists — set on repeat scheduling — to create ongoing reminders for these tasks.
AC: Set a reminder for one date in June, July, August, and September. (Example: the first Saturday in June.) If you find that the filters are not dirty, set the reminder for once a season.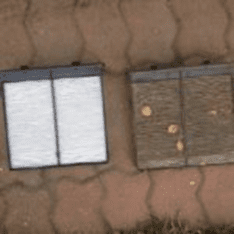 HVAC: Set a reminder for one date each in October, November, December, January, February, March, and maybe April. If you find that the filters are not dirty, set the reminder for once a season.
Dryer vent: Set a reminder for once a year. If the weather doesn't cooperate, don't forget to move the reminder to the next weekend.
Gutters: Set a reminder for some time in early November. This will bring the task back into your consciousness. If you are hiring out for this work, make the reminder for a date in September, so you can call to reserve a date. If you routinely decorate your home exterior of Christmas, get in the habit of cleaning the gutters at the same time
Baseboard heating: Set a reminder for the month when you stop using heat at night. It will vary depending on your location and how you use your heating system.
Thoughts for new owners:
Before you move in, it is a good idea to clean the interior items mentioned here. It is easier to get to them before your furniture arrives. The previous residents might have had pets or plants that left hair, pollen or dust that you might be allergic to, or might just make you sneeze once in a while.