4 Buyers Real Estate puts our money where our mouths are. As a company, we make charitable contributions every year. We don't put our money into the Salvation Army. This sets us apart from other brokers and agents in the Cambridge Community of Realtors®. The Cambridge Community of Realtors®, as a group, supports the Salvation Army. Even though the Salvation Army runs a service for homeless children in Cambridge, we will not give money to an organization that openly disrespects the lives of some of our clients.
The mission of The Salvation Army is to save the souls of the poor people they help. They are evangelists with the goal of bringing those poor people in line with their interpretation of what Jesus asks of humanity.
The Salvation Army, an international movement, is an evangelical part of the universal Christian church. Its message is based on the Bible. Its ministry is motivated by the love of God. Its mission is to preach the gospel of Jesus Christ and to meet human needs in His name without discrimination.
Those last few words, without discrimination, are new. They are not true, historically.
As recently as five years ago, it was not true. Nothing in their principles has changed in regard to their belief that homosexuality is a sin and that their employees can be fired for the sin of bisexuality or homosexuality. They spent money to support laws that criminalize homosexuality. They refused to give services to poor people in places where they would have to accept marital rights of homosexual employees. Their employee handbook still has a code of conduct for employees that can get someone fired for being who they are (if they are homosexual or bisexual.)
If you don't want to read how these evangelical Christians work to undermine the lives of gay and bisexual adults, you can stop reading now and go about your day. The rest of this blog post is a recital of how the Salvation Army stands against the sin of homosexuality.
There are better places to give money that will help the poor among us.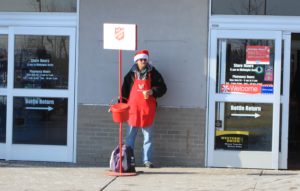 The Salvation Army is clear about its stand on God and homosexuality.  The statement below used to be on their website. Although they have removed it, they have not repudiated it:
Scripture opposes homosexual practices by direct comment and also by clearly implied disapproval. The Bible treats such practices as self-evidently abnormal. … Attempts to establish or promote such relationships as viable alternatives to heterosexually-based family life do not conform to God's will for society.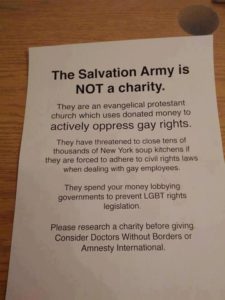 They spend money to work against rights for homosexual people.
Their political actions (funded by their charitable contributions) include overt actions to interfere with the lives of gay and bisexual adults. Since our business openly welcomes and supports households with gay and bisexual people, our business will not support charities that actively support the diminution of civil rights for our clients, their families, or their friends.
1986 — The Salvation Army of New Zealand collected signatures to attempt to stop the Homosexual Law Reform Act. That Reform Act decriminalized consensual, private adult male sexuality. The Salvation Army later apologized for campaigning against the Act.
1998 — The Salvation Army of the United States turned down 3.5 million in contracts with the city of San Francisco. They closed programs for the homeless and senior citizens there. Why? Because San Francisco's required that city contractors must provide spousal benefits to both same-sex partners and opposite-sex partners of employees. Lieutenant Colonel Richard Love stated:
We simply cannot agree to be in compliance of the ordinance.
2004 — The Salvation Army in New York City also threatened to close down all of its services for the city's homeless due to a similar non-discrimination ordinance.
2000 — The Salvation Army of Scotland submitted a letter to Parliament opposing the repeal of Section 28, a law prohibiting "the teaching in any maintained school of the acceptability of homosexuality as a pretended family relationship". Colonel John Flett, the church's Scotland Secretary, wrote:
We can easily envisage a situation where, due to active promotion of homosexuality in schools, children will grow up feeling alienated if they fail to conform.
The Salvation Army of Scotland has never retracted or apologized for its suggestion that homosexuality would be promoted in schools or that children would be encouraged to become gay.
2001 — The Salvation Army of the United States attempted to make a deal with the Bush administration ensuring that religious charities receiving federal funding would be exempt from any local ordinances banning anti-gay discrimination. Church spokesman David A. Fuscus explained that the group did not want to extend medical benefits to same-sex partners of its employees.
The deal fell through after it was publicized by the Washington Post.
2012 — The Salvation Army of Burlington, Vermont allegedly fired case worker Danielle Morantez immediately after discovering she was bisexual. The church's employee handbook reads, in part, "The Salvation Army does reserve the right to make employment decisions on the basis of an employee's conduct or behavior that is incompatible with the principles of The Salvation Army."
Later that year, Salvation Army spokesperson Major George Hood reaffirmed the church's anti-gay beliefs, saying:
A relationship between same-sex individuals is a personal choice that people have the right to make. But from a church viewpoint, we see that going against the will of God.
2013 — The Salvation Army continues to remove links from its website to religious ministries providing so-called "ex-gay" conversion therapy, such as Harvest USA and Pure Life Ministries. These links were previously provided as resources under the Salvation Army's section on dealing with "sexual addictions."
Please be charitable this year. The poor are among us. If you'd like ideas about charitable giving, I would be happy to tell you about the non-profits that I, personally, choose to support as well as who is supported directly by 4 Buyers Real Estate.