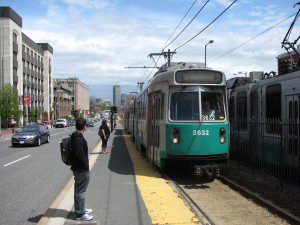 My fellow Realtors® have been selling the wonderful changes to Somerville and Medford that will come on the heels of the Green Line extension. Local real estate prices have risen on the expectation of increased transportation.
I have been cynical about the project, expecting starts and stops. My advice has long been that if you are buying in expectation of quick profit because of this project, it is not a good bet. I've been hearing about this project since I moved back to town in 1989. But once it was a funded mandate, I thought the problems were finally over.
Oh, well. The wait for those windfalls just got longer.
This week, a budget issue (what's a billion dollars give or take?) threatens to derail the Green line extension. Here we go again.
Mayor Joe Curtatone remains optimistic. He says:
The Green Line extension is not on hold. It is under construction today.
There is a direct-cost hike. The budget has to be reconfigured to make it more cost effective. It's not a cost over-run, it is a change in the cost of goods and services. It's easier to build in a downturn.
What is predictable for the future? This project will take years, costs will get higher.
This project will pay for itself in jobs and revenue. But, it has to be done smart.
He still expects Lechmere and Brickbottom to open 2018. He says the Route 16 stop is still expected in 2021.
Outside of Somerville, the rhetoric is dire:
MBTA General Manager Frank DePaola admitted that if the state doesn't come up with a "reasonable way to finance the budget shortfall, they could take it away." The state has already committed $200 million in contracts, and its share currently stands at $338 million, state officials said.
"Everything is on the table, and everything includes canceling the project. That's not the way we want to go," Secretary of Transportation Stephanie Pollack said, adding she's confident the new figures represent the "worst case" scenario. "The bottom line is, we are trying to get back to a project we can afford."