Do you own a house that needs a big change? Do you know what you want to do, but don't know how to get it done? Are you overwhelmed by the contractors you've interviewed?
My cool client Holli Bassin met someone who she thought would be an asset to any client who is considering a larger renovation. One of the many things that I appreciate about our 4 Buyers Real Estate clients is that they share their experiences with us. Sometimes, they are asking for help with a project at the house they bought, sometimes they are giving help.
Holli introduced me to Erika Woodhouse. Erika can help! After the conversation, I'm sold! Here are Erika's words about what she does and why she loves it.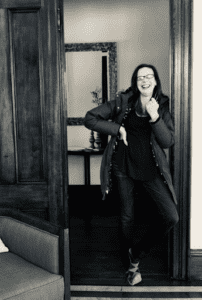 I'm Erika Woodhouse and founder and owner of Perch.  Perch navigates homeowners in the greater Boston area through home decisions and renovation planning.  I offer clarity by identifying goals, pitfalls, costs and real estate ramifications.  Because I've been there before, many times.
And I love that place where houses and people meet.
If you've ever made changes to your home, you know that it can feel like a giant hairball. I started a business with my husband, Chris, about 10 years ago investing in residential real estate, then renovating it and re-selling it.
The process of buying and then renovating my first time was hard. The decisions were endless. And not just decisions, but judgment calls. What needs to happen first, which expert to trust, where to save vs. splurge, when to say no and how to find materials to get the work done on time and within budget with our sanity intact. I plunged in to learn through trial and error, with deep dives into niche industries. I applied that knowledge, utilized and learned from the pros we hired – then rinse and repeat.
I thought to myself – how do people do this just once and not totally lose it? All that time, all that money? When those realities obscure the big goal, it's easy to forget:
It's all about your story.  The story of home, where people meet place.
We found our way real estate development through our own home search.  We were looking for all those factors that make the Venn diagram of HOME – town, schools, cost, transportation, urban vs. suburban, walkability, neighborhood and The House.  We are both crazy about houses, and lucky for me Chris is always happy to pop some numbers in a spreadsheet. For fun, seriously. We wanted to know the history of the house, and the neighborhood, its context, and why certain types of houses were built in this particular place at this particular time.   We looked in just about every town within 495 in Boston, and quite a few outside it.  We were intrepid open-housers, day-tripping here and there, even once witnessing a very slow police chase on foot lumber past my pregnant belly (I did say we were thorough). Material and labor costs started to interest us because we saw so many places that had been fixed up badly.
We wondered:  how hard can it be to do this better?
We were soon to find out.  The answer was, pretty hard. Our first property was a University of Renovation including courses on real estate agents, architects, plans, flooding, finishes, contractors, designers, cabinetmakers, tile, zoning, neighbors, timelines and poverty.  We also had two little kids.
Picking up our scrappy lessons we moved on to one project and another.
Flash forward to about 10 projects later (and one more kid).  I started answering questions here and there, giving advice about aspects of the planning, investment, renovation and design process. It seemed like the obvious evolution to put those skills in the hands of homeowners who faced decisions just like we did. By showing people where to direct their energy and resources and how to make an informed decision, I save homeowners time, money and exhaustion. And Perch was born.
What is Perch? Perch is a strategic planning service for your home. You can make savvy decisions about your home. Yes, planning a renovation is overwhelming – and so are the alternatives. We've got to live somewhere – Perch helps you do it the best way possible.
Some of those questions Perch clients have:
► Can we buy this house and afford the renovation it needs?
► What do you mean, what's my budget – how much will it cost?
► Do I need an architect?
► Can this house do what I need it to do?
► What should I do to prepare for selling this house? How much $ will it take?
► Why is this contractor's bid so different from the other one?
► We have this weird __________ problem – who should we call first? What do we ask?
Talking to Perch is the step to take BEFORE you make your big home decisions — whether that's a renovation, a purchase or a purchase that needs renovation.
You likely realize you'll need the advice of professionals. Purchasing and renovating a home involves a really segmented group of professionals. You've got your real estate agent needs covered with Rona and team. But you may need to talk with an architect, designer and contractor. All those valuable and necessary experts may not always speak to the decisions you're making at a top level. Wouldn't it be nice to have someone framing the equation strictly for you?
People should have homes that fit their lives. So many obstacles are in the way of getting to the finished goal – and it seems like specialized knowledge is necessary to navigate a very silo'd construction and real estate industry.
Hazy costs, priorities in disarray and conflicting advice can create analysis paralysis. It doesn't have to be this way.
What's possible, what comes first, who to tap, how to ask the right questions, is this even a good financial idea – Perch helps you get to the bottom of that. You want to elicit the best advice from every expert on your team. Even before that, you want to know why certain types of businesses are a better fit for certain projects.
I help homeowners define the vision, clarify the possibilities and interpret the pros' advice to make decisions resulting in a great renovation that's on time and on budget. Plus — how does this protect your investment, maybe the biggest one you have? I can take the uncertainty out of those questions for you.
As a real estate developer, I analyze the market, invest in a property and plan improvements. I have to be choosy and knowledgeable in order to make any profit. I've dug into the details. Now I'd like to use that hard-won education to help you with the story of home – where houses and people meet.
Reach out for a free call, or sign up for my emails (I like to say they're a little bit country, a little bit rock n' roll).
Erika Woodhouse
Perch