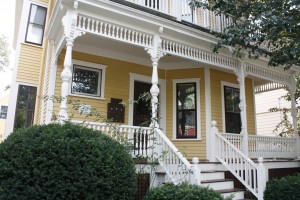 The single family and condo sales market have high demand, unless there is something unusual about the property that makes it unappealing. In addition, properties that are overpriced have problems selling, because they become "stale" on the market very quickly. (These are places where deals can be had.)
Multifamily houses are even harder to buy, since owner-occupant buyers are in competition with developers. In our area, two-family and three-family houses can be converted into small condo associations. These are very profitable in their initial conversion sales, since the market bears higher prices for the units sold separately compared to the market pricing on a two-family house used as a rental. This has attracted investors and developers, making the demand even bigger that for single family houses. Our clients have had some success purchasing these houses by writing directly to owners, in hopes of finding one that wants to sell to an owner-occupant and not to a developer or speculator.
An agent in our office, Ron Rothenberg, had this experience twice recently: His client was not the highest offer in a competitive offer situation; they did not get the property during the initial bidding war. Then the first offer fell through. The listing agent came back to Ron because he kept in touch and also because our client showed how well prepared she was. In one case, our client had the second highest offer; in the other case, the third highest.
I had a buyer successfully buy a two-family house in a very hot market by doing a mailing to owners of prime properties near the Red Line train. They did a 250-piece mailing that yielded four properties to see. They purchased one of those.
The real estate data is clear. Prices are going up. They are going up strongly around Boston. Real estate reporting attracts more attention the more dramatically it can be written. Your job is to keep a perspective that the amount of price increase quoted in the media is as high as they can put truthfully say it could be. The best deal on your future house will be made house by house, and not based on the national statistics. It tests our skills when it is such as strong seller's market.
*our towns: Acton,  Arlington,  Bedford,  Belmont,  Brookline,  Cambridge,  Concord,  Lexington,  Medford,  Melrose, Natick,  Needham,  Newton,  Somerville,  Sudbury,  Waltham,  Watertown,  Wayland,  Wellesley,  and Winchester, MA.