Looking back, in March 2013, Somerville was discussing a hotel in Davis Square, waiting for the Orange line stop at Assembly Row, and the Green line and the bike path extensions.
Since then:
Davis Square hotel = no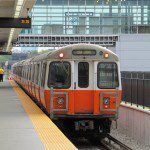 Orange line stop at Assembly row = yes
Green line extension = hell no!
Cedar-to-Lowell Street Community Path = yes
Are we batting 500? Is Somerville a better town to live in, car-free, than it was in 2013?