I am wondering how many new homeowners — who waived their home inspections — are finding out that they don't have central heating in all the rooms of their million-dollar shiny new properties. I know you are out there.
This year, I saw a kitchen in a renovated condo that had no heat. Since I saw only about fifty properties this year, I bet there are lots of unheated kitchens out there. Over the years, I saw many houses without heat on the top floor, or no heat in the kitchen. Did these "gotta-have-it-at-any-cost" buyers manage to look for a heating duct or radiator in every room? Probably not. Did they waive home inspection? Maybe. They are noticing now.
The housing stock in metro Boston is old, by American standards. Central heating was not common when some of these buildings were built. Here's a quick history. This is what I have been seeing, during my career:
Many were built with no central heating on the top floor. The philosophy at the time was that it was healthier to sleep in a cool bedroom, heat rose from lower floors, and quilts were available. In addition, heating fuel was expensive. Hardy New Englanders were used to this.
Kitchens were unheated because cooking heated them just fine. Some old stoves had space heaters for the really cold nights.
The walls of houses built in the early 20th century had little or no insulation. The walls were empty, or maybe had newspaper inside them. The wood on the exterior and the horse-hair plaster inside was considered enough.
Wooden windows have hollow channels on the side where the weights that controlled the sashes are. Cold air had two thin pieces of wood to go through. Some installers of double-paned windows left that empty space around the windows when they put in those new efficient windows. Are your frames cold, new owners?
The equipment that runs your central heat may be in the attic or the basement. Sometimes, it is in a closet. Look for a heating source in every room in your living space.
House hunters, here's your checklist:
Old central heating systems: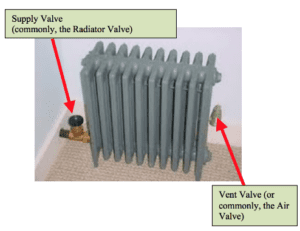 Steam systems have radiators. There will be one pipe coming in and a valve on the other side. Some have two pipes.
Hot water systems may have a radiator that looks like the steam ones. There will always be two pipes, one in and one out for hot water systems.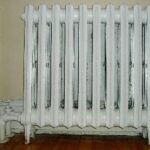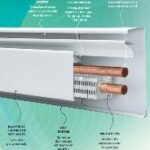 Hot water systems may also have baseboard radiators. The old-time ones have a single vent in the front top edge.
Hot air systems use ducts to blow warm air in. Look for ducts on the wall, the floor or the ceiling.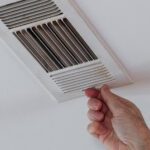 Retrofitted systems look like this: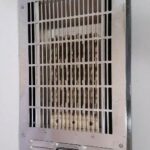 Some rooms may have heat added that is not part of the central heating system. These heating devices have their own thermostats. When rooms have no heat, some owners add heat that is not part of the central heating system. Electric space heaters have been used for a long time. Old ones are usually metal on the cover, more modern ones generally have a coated white cover. Some have a thermostat on the wall; others on the unit themselves.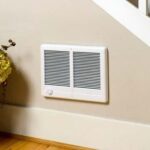 Electric baseboard heaters look like hot water baseboards, from the outside. Look for a water supply to tell the difference. You will also see a thermostat on the unit or the wall for an electric baseboard. New styles of baseboard heaters are thinner. You may see these as baseboards and also towel warmers in bathrooms that needs additional non-central heating system heat.


Modern systems look like this: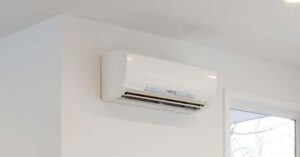 Minisplit systems are efficient electrical heat pumps that also air conditioning. They are usually placed near the ceiling.
Radiant heat has heating pipes built into the floor. Look for a thermostat. Most sellers will tell you when they have added radiant heat, since it is all-but invisible.
Condos in larger buildings
If you are house hunting in a larger building, look for your heat sources, but also look for a thermostat. Some shared heating systems have a single controller for the whole building.
Some heat pump systems that are run throughout a building have another feature that may get in your way:
Heat pumps can run either heating or air conditioning. They cannot run both simultaneously. In building-wide heating and air conditioning systems, when the seasons are changing, the maintenance staff need to switch the system between heat and air conditioning. Sometimes, when there is a very warm day in early spring or a very cold day in early fall, your system may be set to the wrong temperature range.