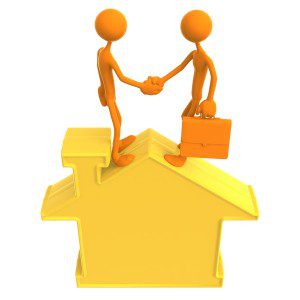 4 Buyers Real Estate is one of a small number of real estate firms that works exclusively for house and condo buyers. We do not list property for sale, so we can be the best at getting buyers their best deals. We do this because:
We are more effective as a team. We can pool our knowledge base and offer the most experience for our clients.
Since we work cooperatively, our integrity demands that we do not negotiate against one another.
If we listed property for sale, it leaves the door open for office tension. One agent could directly or indirectly influence another; since our loyalty is the our clients, we shun the possibility of internal conflicts of interest.
History:
Part 1: Everyone worked for the sellers:
Real estate brokerage, as practiced after World War II, was a fiduciary relationship between real estate brokers and a house seller. Real estate brokerages hired agents to market and sell houses for their best and highest price and terms.
At different times, in different states, real estate brokerages developed systems for sharing their inventory of properties for sale with other firms. These developed into what is generally called an Multiple Listing Service, or MLS. Then, the brokerage trying to market and sell the house could advertise to other brokerages to increase the pool of buyers for the property. The brokerage who brought a ready, willing, and able buyer to purchase the house would share the commission, by mutual arrangement. This increased the seller's access to buyers and the buyer's access to properties for sale.
Back in the day, both MLS brokerages – and all agents – had a fiduciary duty to the seller of the house. The agent who showed houses to the buyers was legally obligated to disclose any knowledge they gleaned from those buyers that could lead to the best deal for their client, the seller.
Part 2: Some worked for the buyers: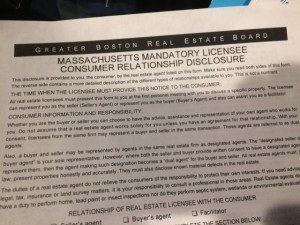 In the late 1980s and early 1990s, consumer demand for exclusive buyer agency grew as exclusive buyer agents began to practice with residential buyers. Buyers liked it, because who would  prefer to be shown a house by an agent sworn to negotiate against them and get the highest price for the property? Consumer groups advocated for disclosure practices, so that house buyers would be fully informed of the fiduciary duties of the agents they were house hunting with.
Through the 1990s, there was an increase in the practice of Exclusive Buyer Brokerage (where all agents in a firm held fiduciary duty to house and condo buyers only). These companies do no property sales on behalf of sellers.
Part 2A: Big firms want to have buyer's agents.
At the same time, traditional brokerages — who list properties for sale and represent sellers — offered buyer agency when showing and selling properties not listed by the their own brokerage. However, when the buyer agents in these listing firms worked with a buyer who wanted to negotiate against a seller represent in their firm, those brokerages were in dual agency. (Fiduciary responsibility was linked to the brokerage, not the agent. This is similar to practices used by law firms when they have clients with competing interests.)
Part 3: Designated agency.
Early in the 2000s, lobbying efforts led to changes in the definition of agents. Instead of the brokerage being the fiduciary agent, individual agents could represent competing parties who were negotiating against one another. The practice is called "designated agency" is now used to describe what was, until 2006, called "dual agency" in Massachusetts. When the listing agent and buyer's agent are in the same office, one is duty-bound to their client, and the company has a fiduciary responsibility to both parties. Each company was responsible for setting up systems to insure confidentiality and disclosure for their competing clients. This is similar to the "Chinese walls" created in financial institutions.
Glossary:
Real Estate Brokerage: Any company in the business of selling real estate. The business of a brokerage is supervised by a person or persons with a broker's license.
Real Estate Agent: Any individual employed by and under the supervision of a real estate broker to sell real estate or represent buyers in purchasing real estate. Agents have a salesperson's license, or are broker associates.
MLS: Multiple Listing Service. A subscription data service shared by real estate brokerages for the purpose of exposing a greater number of qualified buyers to houses for sale.
Listing brokerage: The brokerage who has a contract to market and sell real estate that is "listed" on a Multiple Listing Service. Also called an exclusive seller's brokerage because they hold an exclusive contract to sell a property. Everyone in the company has a responsibility to get the highest price for the seller, unless they are a designated buyer's agent. This contract entitles the brokerage to commission on the sale, even if another brokerage introduces the buyer that purchases it through the multiple listing service. (In which case, the commission is split.)
Sub-agency: The brokerage that shows and sells a property that was not listed by their company, but rather was listed by another company. The sub-agent has fiduciary duties to the seller.
Exclusive buyer brokerage: A brokerage which has exclusive contracts to represent buyers in house purchases. All clienta in this office are buyers, so that the brokerage is not at risk of dual agency with a buyer and seller client in competing negotiation on a house purchase and sale.
Dual agency: A brokerage that holds fiduciary responsibility and confidential information regarding both sides in a contract negotiation on a house purchase and sale.
Disclosed dual agency: When a brokerage informs all clients that they have conflicting fiduciary responsibilities regarding two or more clients who have competing interests on a contract.
Designated agency: The real estate practice, allowed by law since 2006 in Massachusetts, where two agents under the same brokerage license can maintain a fiduciary relationship with both a buyer and a seller. Each designated agent has a duty to negotiate for the best price and terms on a property for their client; one agent trying to get the highest price, and one seeking lowest price.
Buyer agent: A licensed real estate agent who has a fiduciary relationship, and duty, to the buyer. This agent could be a designated agent (where their firm may represent the seller) or non-designated. Non-designated agents do not work in brokerages who will represent competing parties. Exclusive buyer's agents (sometimes called a "true agent") work in companies that will not represent the seller of properties they may want to buy. You won't know what kind of buyer's agent you are working with, unless they comply with the law and tell you, at the time of your first face-to-face meeting.
If you do not sign this form at the first meeting with a buyer's agent, they are ignoring consumer protection law. 
We proudly check the "non-designated agency" box, because all agents in our office are responsible to any buyer in our office.