Do you know what it will cost you to borrow at a higher interest rate?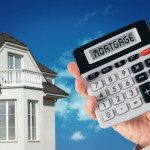 If your rate changed from 3.5 percent to 3.75 percent, the cost would be an additional $14 per month, per $100,000 of principal. This increases slowly to $15 per month, per $100,000 when the interest rate changes from 4.5 to 4.75 percent. So, calculate somewhere between $15-20 per month per $100,000, if your rate is going up .25 percent from what you were originally quoted.
Here's an handy-dandy calculator to do this math yourself.
The hard sell tactic:
If someone is trying to scare you, they quote your monthly payment compared to the lowest interest rate they have the nerve to quote.
OMG! Compared to 2.75 percent interest, you are now paying $565 more a month on your 4.75 percent loan for $500,000. (2 percent increase costs $113 per $100,000.)
Let me deconstruct this:
Interest rates were at 2.75 percent for a heartbeat. That rate was not available for some condos or some borrowers. Most of the super-low rates were on 15-year mortgages, not 30-year mortgages. So the 2.75 figure is being used just to freak you out.

Interest rates are not going to go up 2 percent in a heartbeat. You are likely to get affected by a 1/2 to 1 percent increase from what you are initially quoted. That's worst case.

Increasing interest rates, if they sustain at a higher rate, will reduce demand because of reduced affordability. This will eventually slow demand and cause a leveling off of prices. That will make it easier for buyers, not harder.
Advice:
Don't listen to the sales rhetoric!
When you discuss your potential mortgage with a lender, require that the lender calculate your monthly payments, with insurance and taxes.
Ask your lender to tell you what interest rates are doing, right now, and what they expect. Their fingers are on that pulse all the time, so they can make a guess at it.
Calculate out a worst-case, and buy accordingly.