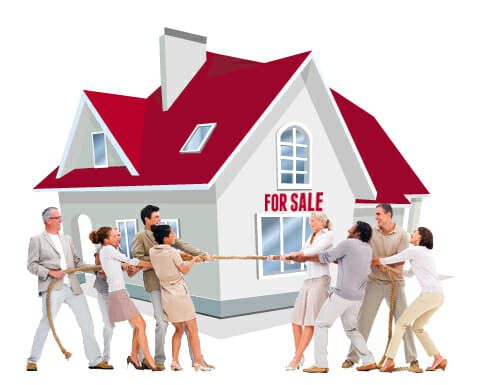 The Boston Globe published an article about the possibility of a slow-down in local real estate.
"… houses are taking longer to sell, and when they do, they're more likely to sell below listing price than they did a year ago. Also, the number of homes on the market, particularly condominiums, is up. The market is still healthy, Major said, but it's easier on buyers than it used to be."
The end of bidding wars? No.
The end of the "hot" market is music to our buyer's agent ears! However, it does not mean that there will be no bidding wars. There are some in this market area in any market condition. Here's why.
Bidding wars happen when seller's agents price a desirable property below what it is worth. People who can't pay the actual value of the property are there along with people who can. That brings in a higher number of buyers to the open house and potentially, to offers.
Buyers react to the competition, and for some, the drive to win takes over. That is what the sellers are counting on. That is how prices get driven up in bidding wars.
In a more level market–not a hot seller's market–two kinds of properties go into bidding wars as soon as they are listed:
Must-have properties, that many people will want. This includes the very well located, or unique, or impeccably renovated historic homes, or otherwise special properties
Properties priced considerably below their real market value
Bidding wars on the must-have properties will always happen. People go out on a financial limb to get a one-of-a-kind home (if that home is their jam).
Back in 2015, one of my agents was involved in an auction/ bidding war hybrid, where he saw the process unfold. The property was worth about $350,000. There were bids starting at $275,000, but the final price was $351,000.
Is there really a slowdown here in the Camberville metro area?
I looked at Cambridge, since that's where our office is located. It is one of the highly desirable locations in the area, so it's a good choice to check if demand is changing. I looked at average days on the market until an offer is accepted.
In June 2018 – 16 days
In June 2019 – 25 days
In July 2018 – 17 days
In July 2019 – 20 days
In August 2018 – 14 days
In August 2019 – 20 days
These are still pretty short time for average days until offer. It means a good number of properties are still getting offers the first week, to offset the ones that are taking a month or more.
Next week, I will write about more signs that the seller's market is coming to an end.
Many happy returns of the day!
I wrote about the effect of a national recession earlier this summer. A national recession  does not lower real estate prices, on average. Prices go down on specific properties, but not overall. In high-demand areas like ours, prices recover quickly.
For tips about preparing for a real estate recession, see this post.