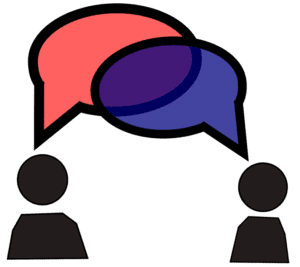 Our clients benefit from the experience of our entire staff. We work together, helping one another find good options for your house-hunting decisions. If something comes up that your agent has never seen before, someone else in the office probably has. Few real estate offices offer a collaborative model; we are in a dog-eat-dog industry, where we refuse to eat dog. It works for us, but more importantly, it works for you.
We call and text one another, whenever, if something unusual happens during your house hunting. We talk about tactics to help buyers at our staff meetings. Because we are exclusive buyer's agents, we have collected a deep well of collective knowledge about how houses work and how negotiations work to get buyers the best property at lowest possible price.
We advise, you direct.
You determine the best house for you. We give you feedback about how the house matches what you said you wanted. We advise you about what problems/repairs may be needed to this house, now and as time goes on. We advise you on what that house might cost you in the current market. We provide you with negotiation plans. You choose the plan; we do the negotiating. We come to your home inspection and tell you whether the problems the inspector finds are typical, or not, in your market.
We help you sort the data.
Everyone can find houses for sale. Our experience helps in making your search efficient. An efficient search will yield the highest number of hits or near-hits with a decreasing number of duds. Our goal is to save you time as well as money.
We provide a market analysis of a house you want to buy.
Before you buy, you will see how the price of the house lines up with the price other people recently paid for houses like it. This provides the basis for your negotiation.
We are objective while you make a very personal decision.
Buying a house is a financial decision. Buying a home is a personal one, full of emotion. We will keep an eye on both factors, so you don't lose track of your the financial goals. As your agent, we remain objective when you are not.
Competitive offer deadlines are short. The time between Offer to the final Purchase and Sales Agreement involves many decisions in a short period of time. We know the steps to buying and will keep you informed about decisions that are just around the corner. That way, you know what's coming and can think clearly when things get hectic.
We take agency seriously.
An agent is someone who gets things done according to your direction. You make the decisions; we do our best to make it happen. Agents at 4 Buyers Real Estate act only as buyer's agents. Our training and focus is on getting the best house for the best price and terms. 
We know good attorneys, lenders and inspectors.
Good service is more than just good rates. Attorneys and lenders need to communicate well and take deadlines seriously. Inspectors need to communicate well and not be afraid to give you the bad news about a property. We have tried-and-true service providers who do a good job and do it on time.
We use our experience to find out-of-the-box solutions to roadblocks.
Because we are buyer's agents with 30 years of buyer-centered experience, we have the collective knowledge of creative ways to solve problems that come up in the process of buying a home. The 4 Buyers Real Estate team has seen over 15,000 homes in Massachusetts and helped hundreds of buyers make smart buying decisions.
Every agent does these things for our clients.